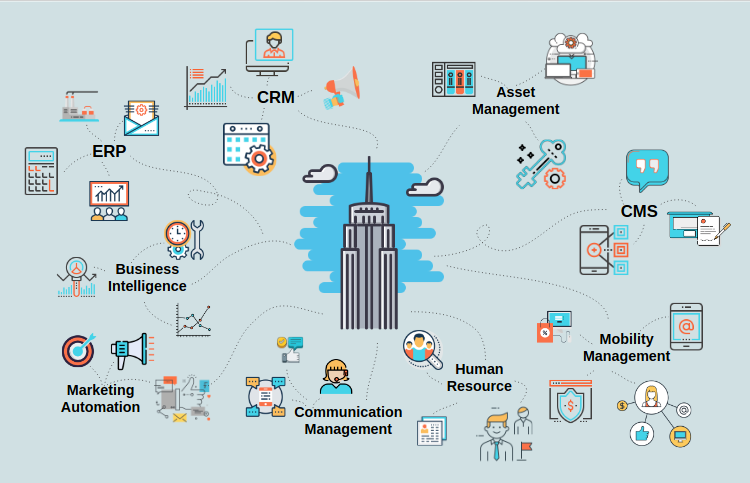 Every company strives to stand unique and ahead among its competitors in today's cut-throat competitive market because in many sectors winner takes it all. Thriving in this world requires companies to deliver best quality services possible in the shortest time to their customers. And to achieve this, companies are leaving no stone unturned to transform and innovate their business processes. However, innovating organizational operations at a warp-speed is only possible with the adoption of digital technologies, or more precisely enterprise software solutions. But, what are enterprise software solutions?
Enterprise software solutions, also called enterprise application software, are nothing but software solutions that are used to conduct business operations and processes at an enterprise-level. With these sophisticated technological solutions, companies can automate mundane tasks, eliminate human errors, increase operational efficiency and accuracy, meet changing business landscapes and demands, make informed business decisions, ensure faster time to market, boost revenue generation, to name a few.
Leveraging our experience of building enterprise software for enterprises in many developed and developing countries, here is the list and analysis of top 10 enterprise software that companies, irrespective of their size and type, should take into consideration to get bang for their buck.

Top 10 enterprise software solutions:

1. ERP Software

ERP software is an enterprise process management tool that provides an integrated platform to manage numerous business activities and enable streamlined data flow between them. The purpose of this single comprehensive system is to simplify, automate, and streamline processes and sub-processes, thus enabling optimum use of resources.

However, to get the most out of this software, companies must select the right ERP software among many options in the market, which could be a tricky task. Every organization stands unique in its products or services. The standard functionality that ERP exhibits may or may not fulfill your business unique requirements. This means, companies must select an ERP platform with functionalities that meet their company goals. And for this, companies should customize the ERP software according to their business model. Choosing a custom ERP solution will help companies achieve productivity and efficiency gains, achieve a competitive advantage, and bring in high ROI.
Read more : Off-the-shelf vs Custom ERP - How much does custom ERP cost?
2. CRM Software

CRM stands for customer relationship management. This itself means CRM software is a data-driven software solution that helps companies maintain and retain relationships with customers.


Goes without saying that customers are the real wealth of any organization. So, CRM is one tool that should be adopted without fail. However, it is important to note that the CRM software readily available in the market comes with many unnecessary and irrelevant functionalities. This means, companies using off-the-shelf CRM systems have to pay excessively for functionalities that aren't even useful for them. Plus, companies have to purchase additional add-ons to make the software compatible with their CRM system, which again is not pocket-friendly. Instead, going for custom CRM could be an ideal solution. With custom CRM software, companies can exclude unwanted features and only build features which are required for their organization. It also integrates well with your existing platforms as its specifically custom built for you.

3. Project Management software

Planning, organizing, streamlining, tracking, controlling, and managing project tasks while meeting deadlines is indeed an overwhelming task. That's where a project management software comes into the picture.
Irrespective of the company's size, a project management software is a must-have.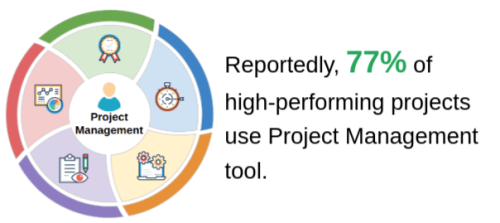 Source: Business2community
Also, the adoption rate of project management software remains 22 percent as per Wellingtone's survey. This indicates that there is a fair opportunity for companies to stay ahead in the market. However, to stand unique among competitors, there's a need to adopt a strategy that's unique to others. This can be achieved by implementing a project management software that is highly customizable. Bespoke software will help companies build workflows exactly as they want and follow their processes completely in a single consolidated platform, resulting in high sales and high-profit margins. Isn't this is enough to gain a competitive advantage in the market?

4. Content Management System

Managing web content is not a difficult task anymore with Content Management System (CMS). With absolutely no coding knowledge or skills, the content development and marketing team can easily manage content at their fingertips.

Though CMS platforms, or more precisely off-the-shelf CRM platforms, are affordable and easy-to-use, it lacks to provide security, which is a big concern for any reputed business. By hacking open source CRM software, hackers can not only steal digital content but also sabotage SEO rankings.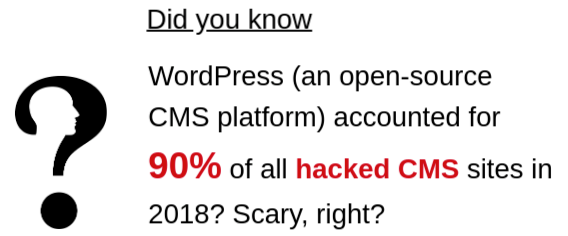 Source : Zdnet

One best way to secure websites is to implement a custom CRM platform. Custom CRM platforms are coded and built specifically for your company so it's source code is not viewable by the world and hence not for hackers too :-), which means it is less susceptible to attacks.
Also, custom CRM platform isn't usually targeted for an attack, because even after spending so much time to find vulnerability hackers are just able to compromise one website, wherever exploiting a single vulnerability in popular open source CMS (read WordPress) can open the door to millions of website for hackers. So it's all about RoI for hackers too ;-)
Moreover, additional security borders can be added for an extra safety layer. Apart from security advantages, a custom CRM platform will have specifications that match company needs, very-little-to-no delays, and no limit for plugin choices. Amazing, right?

5. Marketing Automation Software

Marketing automation software automates the repetitive, mundane, and time-consuming manual marketing activities like sending emails and posting social media content, thus eliminating human intervention. The automated marketing processes and communication actions are taken care of by this software and it helps marketers to convert a prospect to a paying customer.
The report stating - 75% of marketers already use at least one type of marketing automation tool - clearly indicates the widespread adoption rate in the market.
However, to sustain in such a competitive market, you need to do stuff better than other. Capturing leads and establishing relationships with them is what others are currently doing.

So to be more effective, customer behavioral data should be tracked and interpreted thoroughly to deliver personalized marketing messages across different mediums for a highly relevant shopping experience. And this can only be achieved by adopting a custom marketing automation software, because every company's marketing efforts are different, also their customer data is different.
So, instead of allowing a generic system to analyze customer data, companies can opt for a bespoke system, which will be developed exactly as per business type, nature, and customer base.

6. Human Resource Management Software

Human Resource Management Software (HRMS) is all about the technological system that automates several HR-related tasks, ranging from talent management, leave and absence management, payroll management, performance management, and many more.

More and more companies are adopting this software so that their HR team focuses on strategic tasks. While some are embarking on the HRMS journey, some forward thinkers are researching on how a custom HRMS can help them achieve unique benefits. Customizable HRMS will not only integrate well with the existing platform but also provide personalized rewards, tailor-made reports, and custom performance appraisal forms and reports, and many more.

7. Enterprise Asset Management Software

Enterprise Asset Management Software (EAM) provides management of the company's properties, infrastructure, inventory, and equipment. EAM can help by automating asset condition monitoring, ensuring safety management, taking care of inventory and labor management, complying with legal and environmental regulations, and so much more.

However, we cannot expect impressive results from one-size-fits-all EAM software. Why you ask?

Off-the-shelf EAMs will be unaware of every organization's asset goals and evolving requirements. This software may encompass features that aren't relevant or enough for your business model. On the other hand, if companies opt for a customized EAM system, they remove or add any new functionality to the software to match their needs.

8. Enterprise Mobility Management Software

Enterprise Mobility Management (EMM) software is a technological solution that helps companies to maintain a secure network and data access in employee's mobile devices.

Security is the top-most concern of every organization today. EMM system is expected to solve this issue. However, as malware advances, EMM system also faces security risks. Researchers had discovered a zero-day remote access vulnerability in Samsung SDS's EMM in the year 2018.

To ensure the EMM system is not vulnerable to attacks, companies can safely choose for customized EMM software. A securely crafted EMM system from scratch that is built keeping the company's priorities in mind is indeed the winning recipe to have a successful BYOD strategy.

9. Enterprise Business Intelligence Software

Enterprise Business Intelligence (BI) Software is a technological solution that helps companies to gain profitable business insights from structured and unstructured data. The right BI system allows organizations to generate reports in minutes, integrate well with an existing platform, control reports, have no extra fees to add functionalities, to name a few.

However, it is important to note that all of these won't be easily provided by any standard BI software. The vendors will demand additional licensing fees to add plugins. Instead, companies should go for custom-built BI software that perfectly fits their business. Plus, customized BI solutions will secure your sensitive data from malicious players. Isn't this a worthwhile investment?

10. Enterprise Internal Communication Management Software

Enterprise Internal Communication Management Software is a system which allows employees to share information with each other any time, fostering team collaboration in an organization.

Although there are many open-source internal communication management software readily available in the market, opting for one may not be the best cost saving measure. Why you ask? Well, it is obvious that the communication system will hold every data that is shared. This data may be sensitive. Hackers lustily waiting for sensitive data and they can find this system as the right target. Also, not every company is the same. As per the business type, the communication system should be chosen. For example, any healthcare company should adopt software that meets HIPAA compliance.

Conclusion

In this digital age, enterprise software solutions is no more an option for companies. According to Statista's report, IT spending on enterprise software solutions is more than 326 billion dollars per year, indicating the widespread adoption rate.
Frankly, companies that don't adopt enterprise-level software will fail to achieve enterprise-wide operational excellence and competitive advantage. If you don't want to be one, then start planning a strategy for choosing the right enterprise software solutions for your business now.