Remember when 'robots' working across factory floors were only seen in movies?
Well, gen-Z will probably laugh at that if we told them so!
Today, there are two type of manufacturing businesses:
One, who have already gotten a digital transformation to their manufacturing business
Two, who are thinking of switching to digital manufacturing!
Breaking down the recipe of manufacturing technology, you'll find automation & robotics planned in-line with the unique manufacturing business workflow.
To answer the follow-up questions related to manufacturing technology - read ahead!
What is Digital Manufacturing?
Digital transformation is being used as the synonym for success recipe these days. It's not surprising if that buzz got you thinking of welcoming aboard IT in manufacturing. But first things first - knowing what digital manufacturing really is comes ahead of knowing the benefits.
To put in simple words, when a business integrates technologies to the existing manufacturing workflow to primarily speed up time to market the manufactured products & curb the cost associated with the day to day operations, that enhanced process is called digital manufacturing.
The biggest difference between traditional & digital manufacturing lies in 3 aspects: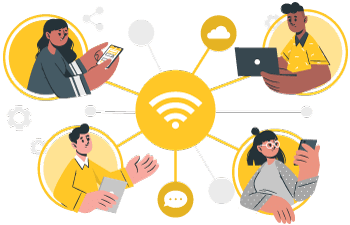 Connectivity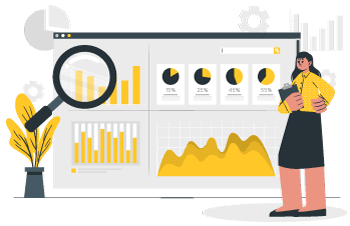 Real-Time Data Processing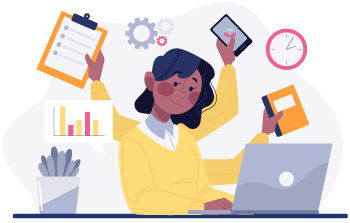 Productivity
And in all these 3 aspects, needless to say, digital approach exceeds the traditional methods with minimized errors and maximized accuracy & speed.
Don't Miss: BinaryFolks Smart Factory Guide!
Before We Dig in Digital Manufacturing - Here are the 2 Things You Need to Prioritize First!
Digital transformation might be a very sensitive investment but the self-proclaimed top digital transformers will always press you for an "instant start". And that's what can cripple the potential right at the zero-th step.
Digital manufacturing has heavy reliance on technologies, which doesn't come easy on budget, time & efforts. So clearly, steering clear of the prerequisites is the safest way to ensure expected ROI.
1
First, state the business problems you're looking to solve
You can not reach your desired destination following someone else's map! Likewise every business, even from the same industry, is different from another. Thus, from the workflow to their needs - everything varies significantly & that's why you need a plan aligned with your unique business needs. Start with documenting your needs - lesser downtime or faster transition to the store shelves, optimized production or effective vendor management - list them all, in detail. That'll help you set reasonable, feasible & incremental targets.
2
Finally, keep the users' convenience in mind
A digital transformation can only bear great results if the people related to its usage are familiar with its functioning. So, to avoid functional bottlenecks and ensure smooth operations, prioritizing the workforce's convenience while choosing techstack will be beneficial.
Top Digital Manufacturing Applications
With technology intervening into all socio-economic aspects globally, smart living is becoming the new normal. And to meet the smart living needs, traditional manufacturing processes fall short. If you are also brainstorming over a 'step-up' plan for your manufacturing business, here's a list of top productivity-spiking applications of digital manufacturing to take inspiration from:
1.

Autonomous mobile robots (AMR) which are the automated replacement of manual efforts put across factories for carriage, inspection & trace products.
2.

Augmented reality (AR) to provide pictorial instructions for efficient process execution
3.

Cobots (Collaborative robots) to help with ensembles, drilling work, 360 degree inspection etc.
4.

Asset health tracking to keep an eye on machinery wellbeing and sending out notifications reminding of routine maintenance
5.

Sensor-rich digital thread to virtually represent a detailed overview of the manufacturing space, showing every aspect - from asset placement to machine performance, maintenance record to throughput optimization metrics..and every other data alike!
What are the Benefits of Switching from Manual Manufacturing to Digital Manufacturing?
Robotics & Automation
Manufacturing Quality Management
Yield to Energy Optimization
Performance Tracking
Predictive Maintenance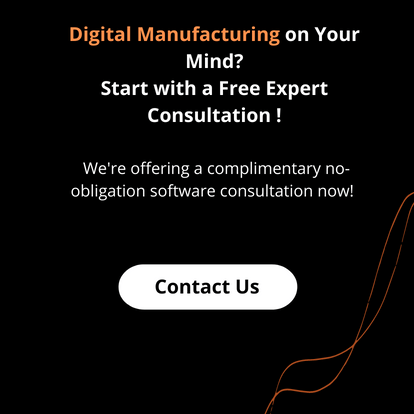 Top Industries that Can Benefit from Digital Manufacturing
Manufacturing is a crucial step of an array of key industries but answering the "Does my business need digital transformation now?" can get a little difficult and a lot research-reliant. To help you know the hot happening better, listing the industries who are making the most of digital manufacturing these days!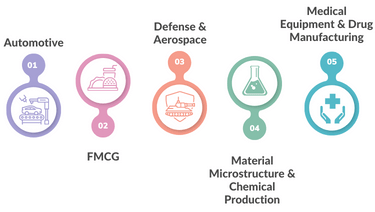 Don't Miss: BinaryFolks Food Manufacturing Software Guide!
Digital Manufacturing 0th Step - Ask Yourself these 3 Questions!
All these advantages that IT in manufacturing brings along, but obviously, if it's planned right ! That pretty reasonably leads to the question "How to plan digital manufacturing rightly?" The answer is setting the expectation first - competitive advantage, maximum automation, day-to-day production cost & minimize downtime with timely maintenance (preferably predictive maintenance). To achieve all of these, the 0th step would be to ask yourself the below questions and answer in accordance with your business goals:
Top 8 Technologies Making a Mark in Successful Digital Manufacturing
To determine how successful your digital manufacturing efforts would be, the technology choice plays a crucial role. Take a quick look at the tried and tested technologies leading to successful digitization of manufacturing units:
Industrial Internet of Things
Big Data
Cloud computing
Additive manufacturing (AM)
Advanced robotics
Augmented and virtual reality (AR/VR)
Digital Twins
Blockchain
For details, head to our smart factory guide!
Digital Manufacturing Makeshift - Simplified
Now let's get to the point - how to digitize your manufacturing workflow, up-close.
Identify your business needs & document those in detail
Perform a thorough vendor research & choose an experienced development team
Share requirements & mutually fix a scope
Keep in touch & test every developed module
Launch!
Why does Developing Your Digital Manufacturing Software with BinaryFolks Make for a Wise Choice?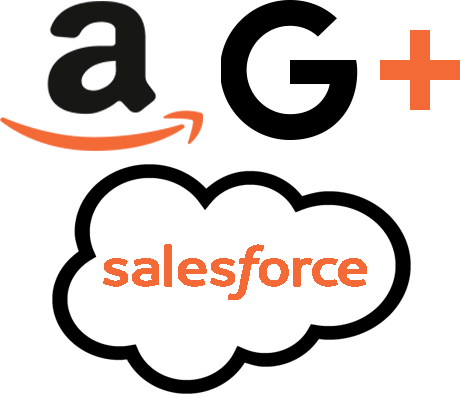 Driven by ex-engineers from Google, Amazon & Salesforce
101% Value For Money (+1 for Our Complimentary Consultation before You Spend Your 1st Dollar!)
Reviews That You Can Verify!
Safeguarded Business With An NDA
Out-Of-The-Box Innovations
Questions Galore (Until Your Requirement & Our Understanding are mirror copies!)
Insight-Rich Scope Enhancement
Conclusion
Well, the 2021 State of Manufacturing Report states 91% has responded to the post pandemic e-shift needs by increasing their investments in digital manufacturing. Isn't that 'the' message from the future in a nutshell?
It sure is.
How about we start with a custom consultation from the experts?
A few examples of digital manufacturing are cloud computing, IIoT, advanced robotics, Big Data and analytics tools, digital twins etc.
Digital manufacturing can be perceived as an amalgamation of 3 aspects:

1. Product life cycle: End-to-end manufacturing process : planning, designing, execution and enhancement

2. Smart factory: Heavily automated, connected production facility

3. Value chain management: Optimizing involved resources to satisfy customers & thicken profit-line alike
Using technologies to simulate and automate production operations, digital manufacturing primarily optimizes outputs, reduces operational costs & paces up manufacturing. If these are your immediate goals, then you have your answer!
Digital manufacturing has an array of advantages but broadly:

1. Improve brand awareness
2. Plan & provide highly customer-oriented solutions
3. Reduce operational costs
4. Minimize production time
5. Improve quality of production
Digital manufacturing platforms in simple words refer to services automating the end-to-end manufacturing process, minimizing the need of human intervention. Primarily, it performs functions like recording, storing, utilizing and on-demand supplying the data.
Inclusion of AI robots can help with data-backed decision-making and automate repetitive operations happening in the manufacturing plants. The difference between digitizing manufacturing workflow and including AI bots is that you get the usual benefits of digitization & the AI model improves itself from self-learning.

Looking Solution for same industry?
Our Experts Can Help You!