Chrome extensions development make browsing easy and fun! Every browser has certain limitations and Chrome is no exception. Chrome extensions are developed keeping in mind these limitations - to add additional functionalities to the Chrome browser to extend its capabilities.
BinaryFolks is a chrome extension development company with over 5 years of experience in developing Chrome extensions across multiple industries for clients spread all over the globe. Hire chrome extension developer to build extensions that can power up the entire browsing experience and supercharge your browser to make your online life easier.
Why hire chrome extension developers to create customized chrome extensions?
Chrome extension increases browser potential exponentially! If a large chunk of your business is carried online, there is a good probability that you might need to leverage technology to enhance both productivity and revenue, minimizing time alongside. Chrome extensions do exactly that!
Chrome extensions are user-friendly. One has to follow three steps: Find the extension in the Chrome Store, add it to chrome and start using it! As simple as that.
Chrome extensions can be synced across all your personal devices. So, no more "Shit! I forgot the password" or "Oh no! I don't remember the bookmarked site" issues when accessing office stuff from home PC.
Some chrome extensions can be accessed offline too. So, no issues when you are on a flight or there is no internet on the go.
Chrome extensions are part of the browser, so there is no chance of information loss in case of a system failure or system crash. All your data, safe and secure!
Why hire BinaryFolks for Chrome extension Development?
1

We have developed quality Chrome extensions for a variety of services across industry verticals and we excel at it. Here are just a few examples of our chrome browser extension development.

2

Most of the Chrome applications that we developed are very sophisticated and have a lot of complex backend operations. So, we can also implement your very sophisticated and complex business cases in a Chrome Extension.

3

We meticulously discuss all your requirements in absolute details over audio or video meetings and then draft a Business Requirement Document (BRD) which is a guiding document during the development process.

4

We follow complete transparency in our development process and break the complete process into milestones and provide video demo of all the functionalities for the particular milestone once completed.

5

To top all this off, our business analysts and developers have remarkable English communication skills, so communication will be the least of your worries.

6

Our chrome extension developers use chrome.storage.local instead of window.localStorage for storing user's credentials as it stores data in a central location and automatically syncs between signed-in Chrome instances if extensions sync is enabled.

7

We follow all web-security standards and our chrome extensions haven't been exploited so far.

8

We ask for permissions that are absolutely necessary so that it helps to limit the damage if your extension or app is ever compromised by malware.

9

We provide 90 days of free maintenance and bugs resolving support.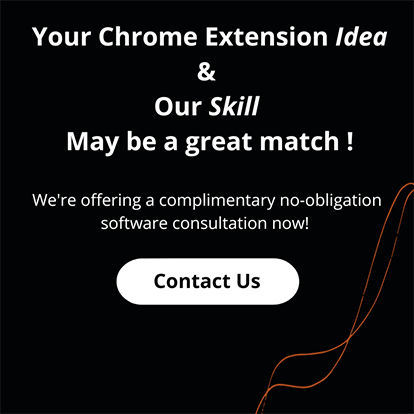 Technical skills required for chrome browser extension development
BinaryFolks has expertise and experience with all the pre-mentioned skills. Take a look at our complete technical expertise here.
Chrome extension development and BinaryFolks - What we offer?
What we offer
Complete transparency and remarkable communication
Implemented Complex and Sophisticated Business Logic
Faster time to market
Vast technical skill
Long term business relationship
Support for offline features and functionality
90 days free bug support
Why Choose BinaryFolks for Hiring Chrome Extension Developers?

Driven by ex-engineers from Google, Amazon & Salesforce
101% Value For Money (+1 for Our Complimentary Consultation before You Spend Your 1st Dollar!)
Reviews That You Can Verify!
Safeguarded Business With An NDA
Out-Of-The-Box Innovations
Questions Galore (Until Your Requirement & Our Understanding are mirror copies!)
Insight-Rich Scope Enhancement
Featured Projects
Looking for chrome extension development?
Our experts can help you!