Mobile application development - Bridging the gap between the physical and digital world
Businesses all around the world have started migrating to mobile apps! Ask anyone about a service and all you get to hear is "There's a mobile application for that".
BinaryFolks is a mobile application development company in India that offer full-stack iOS, Android, and web development services. We cover the A-Z of mobile app development cycle, from concept to development, irrespective of how diverse or complex your requirements are.
some mobile app statistics
There are more than 2.7 billion smartphone users in the world.
77% of Americans have smartphones
There were 194 billion apps downloads in 2018 worldwide
Mobile apps are projected to generate 188.9 billion US dollars in revenues in 2020
67% of internet users worldwide visit the Web on a mobile device.
80% of shoppers use a mobile phone in a physical store.
85% of travelers use mobile devices to book travel activities
What programming language is used for mobile app development?
Different approaches to mobile app development: Web vs. Native vs. Hybrid: Which Approach is Best?
Native app development
Hybrid app
Progressive Web App
Mobile apps mean a comparative advantage for a business. However, mobile app development is an expensive investment that might not pay off immediately if your business isn't ready for it.
signs that it's time to build a mobile app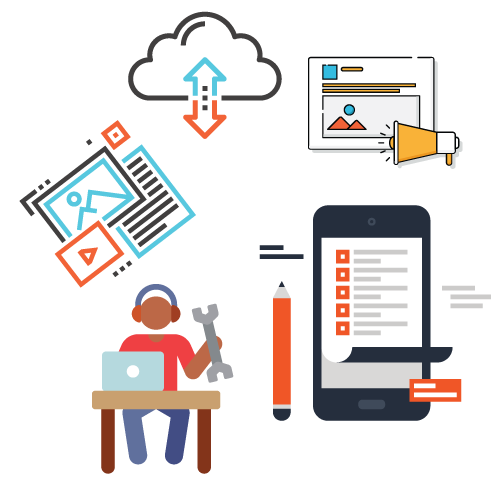 Your IT support team spends a lot of time in fixing mobile website related bugs or there are certain limitations to your mobile website.
Your customers are demanding offline access
You need an app to strengthen and reinforce your branding
You need to move to the next level of marketing and aim to leverage your customer's inbuilt device capabilities
All your first degree competitors have mobile apps
You need to capture information and insights about your customers
Take a look at some vertical-specific mobile app development benchmarks!!
72% of students reported increased engagement with mobile learning and at the same time, 72% of companies have reported that by embracing mobile learning, they became more responsive to marketplace changes. 34 percent of all companies surveyed have aggressively implemented m-Learning programs for their workers.
Health Care
There are 2.2 million Android apps and 2 million iOS apps out of which 165,000 apps are in the healthcare category alone. mHealth technology market is set to grow by 33% to USD 60 bn by 2020.
In the US in 2017, mobile users spent an average of 2.3 hours per day with digital media. 52% of the time individuals spend on digital media is on mobile apps.
Job boards
94% of smartphone job seekers have browsed or researched jobs on smartphones. 28% of adults–and 53% of young adults–have used a smartphone to search for jobs. Also, 50% of smartphone job seekers completed a job application on their phone
49% of direct online bookings are now on mobile, compared to 31% in 2016. 50% of the millennial travelers have discovered a new travel company while researching on the mobile phone and 51% of the travelers use text or messaging to get in touch with a travel or hospitality provider.
IoT
The Internet of Things Will Drive Wireless Connected Devices to 40.9 Billion in 2020. The potential for future growth is massive. Only 0.06% of all devices that could potentially leverage IoT are actually doing so. This makes the remaining 99.94% available for optimization.
99% of Millennials search their houses on online websites Out of that, 58% of Millennials and 46% of Generation X began their search for a dream home on a mobile device.
Shopping
Marketer expects global ecommerce sales to reach $4.058 trillion by 2020, representing 15% of total retail sales. And the percentage of that belonging to m-commerce will also continue to grow, as more online retailers see more than 50% of traffic coming from mobile devices.
Hiring mobile application developers?
Start with a free consultation