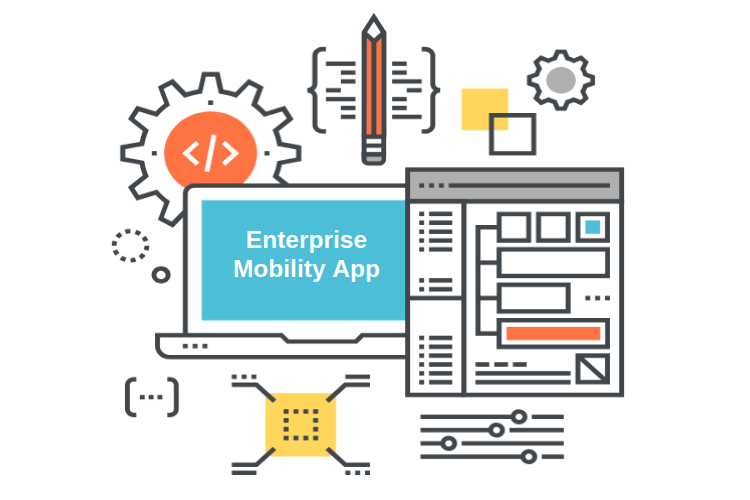 In the present era of cut-throat competition, every business makes moves that help them stay ahead of their rivals. And that's kind of obvious; isn't it? A rapid growth in terms of revenue, customer base and market share is something that every business unit dreams of. And enterprise application development and deployment acts as an effective catalyst to accelerate that growth.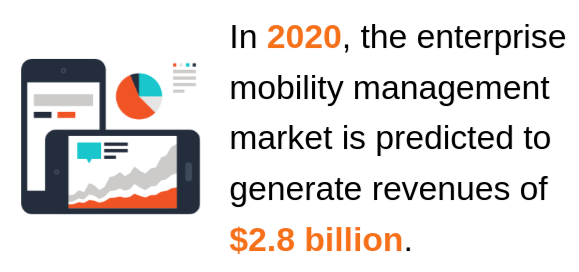 Source : Statista
Over the past few years, enterprise mobility has become an important element in the journey of digital transformation, and it's especially so for the growing business organizations. Mobility is undoubtedly an important element of the IT architecture of a business – the architecture that comprises mobile, social, cloud, and analytics, and hence, enterprise mobile application development has gained huge popularity over the past decade.
You might wonder why enterprise app development is considered to be imperative for accelerated business operations. Well, that's precisely because it ensures a ubiquitous ecosystem and offers different ways to interact with all the stakeholders – the customers, the employees, the vendors, the prospective partners and the consumers.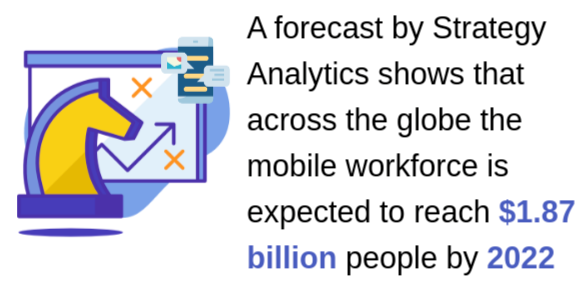 Source : Strategyanalytics
Another recent report about the global mobile app revenue records that in 2018 the total app revenues amounted to more than 365 billion U.S. dollars, while the apps are projected to generate a revenue of more than 935 billion U.S. dollars by 2023. In a scenario like this, it's kind of obvious for companies to invest in enterprise app development services. But then, what are the most crucial features of an enterprise mobility app that would help leverage the maximum possible benefits? It's important to identify them, right? Let's take a look –

The Must-Include Features of an Enterprise Mobility App
When you approach an enterprise application development company, they can thoroughly explain to you how deploying mobile enterprise solutions can boost employee productivity and reduce the processing costs of your business. But then, what they cannot do is to determine the most relevant features for your business app. Like every other business, your organization must have certain unique business needs, based on which, you should be able to decide upon what features to include in your enterprise mobility app. Before that, wouldn't it be great if you have some familiarity with the features that usually helped many companies to make a rock-solid enterprise mobility app?

Incredible user experience
It's important for an enterprise mobility app to ensure intuitive user experience for the users. Apart from focusing on improving the functionality of the application, it should also ensure the best possible user experience as this helps improve the adoption rate of the app within the organization. This, in turn, helps fulfill the objective of investing in a mobility app.
But the question is what can be done in order to improve the user experience. Right from offering futuristic features like in-app notifications, offline functionality and multi-platform support to making the app responsive – every single factor contributes to make the app perfectly user friendly. The responsive design ensures that a single design fits into different screen sizes without much complexity. As a result, no matter whichever device the users are using, the experience will be absolutely perfect for them.
Multiple Platform
Accessibility across multiple platform is one of those features without which an enterprise mobility app can't do. Most of the reliable app development companies that provide top-notch services ensure that the solution they offer runs through different platforms including Windows, iOS and Android. It's quite obvious that the target audience of an enterprise mobility app would be using the app from multiple platforms, and if you want to cater to as many users as possible, it's vital to include the multi-platform feature in your application.
Secure & centralized data infrastructure – One of the primary concerns with any enterprise technology solution is to provide rock solid security across all the major touch points. Make sure a centrally moderated and secure data infrastructure is built for your enterprise solution so that all the mission critical data about your business remain safe and sound.
In the present data-driven scenario, losing the important business data can prove to be fatal for any business. Hence, it's important to ensure utmost security so that the data is monitored thoroughly. Make sure multiple level security is implemented to control the loss of data completely.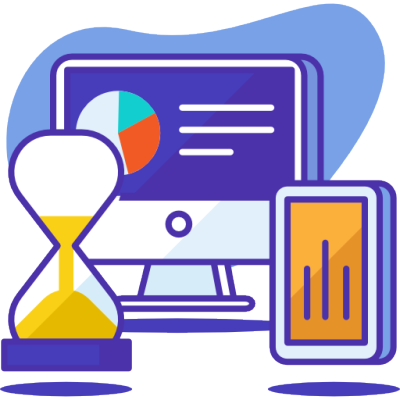 Flawless connectivity and Real-time analytics
Uninterrupted connectivity is one of the core purposes of integrating a mobility app in the existing business operations. It helps gain better insights into the ongoing processes, based on which further strategies can be determined. This is why, every mobility app that is designed for the benefit of an enterprise, must include cognitive analytical capabilities.
In the present scenario, every organization has to manage thousands of processes, communicate with hundreds of stakeholders and look after lots of focused services at any given point of time. In such a massively information-driven situation, the organizations expect real time analysis of data so that they can experience flawless data curation, which will help them take better decisions in the future.

Offline mode
This is one of the key features that an enterprise mobility app can't do without, at least in the present scenario. With the challenge of surviving the extreme competition, it's important to develop and design a mobile app that can adopt offline capabilities or can function in offline mode. This ensures the users get a flexible experience even when the connection is flickering, slow, or not working at all.
Thus, your target users don't get frustrated with poor network connectivity as they can access certain very essential functionalities of the app even if there is no network. This helps you gain not only a competitive edge, but also loyalty from your users since they can access it even in areas with poor connectivity.

Push notifications
Well, following the ongoing trend, we all know how user behavior can be impacted with effective features like push notification, and your employees are no exception. These notifications are small messages that pop up in the mobile devices of users to let them know about important reminders, upcoming events and when there is some emergency. Hence, this is considered to be one of the most successful and easiest ways to reach your employees. This feature is absolutely crucial for the success of your enterprise mobile app as it lets you communicate with the users at the right time with the right message, even when they are not using the app actively on their devices.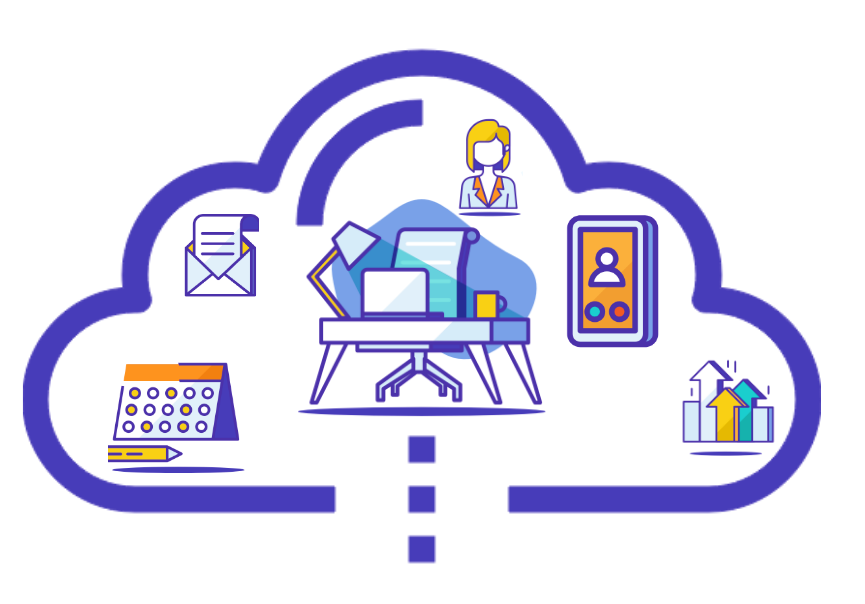 Cloud storage
The very basic purpose of a mobile app is to enable smooth and easy access for the workers from anywhere. This is why, storing your mobility app's data in cloud is a must-have aspect of enterprise app development.
According to a report by Gartner, the total revenue of the cloud service market across the world had been $182.4 billion in 2018, and it's supposed to grow 17.5% in 2019, to a total of $214.3 billion. This clearly indicates the fact that businesses consider cloud storage to be an integral component for the success of an enterprise app. And this is very obvious because, organizations are in need of solutions that provide the crucial business data to the decision-makers, to the executives, and to the management while on the go.

Robust support
One of the principal conditions of being a perfect enterprise mobility app is to have an AI-backed solid support system so that the stakeholders can get assistance, whenever required. Apart from enhancing the user experience to a great extent, this helps ensure that the solution is an integral part of the organization in the long run.
An excellent instance of apps that have successfully leveraged the potential of AI is Google Allo since it helps users find informative and relevant answers to their queries, with minimum possible effort. With amazing support features like audio calling and file sharing, the app has been able to make the platform absolutely enterprise-friendly, and thus, appeals the enterprise clients significantly.


Read more : What To Keep In mind Before Custom Enterprise Software Development?
The core purpose of designing and developing an enterprise mobility app is to improve the business operations in every way possible, and that can be done by implementing the features strategically. It's a well-accepted fact that mobility solutions should be meant to deliver functionalities that are tailor-made according to the business objectives of the enterprise. And this can further be leveraged by not blindly following the conventional approach. Enterprise mobility strategies that are significantly different than the traditional application development initiatives but more aligned to your company's business needs, are supposed to be more effective when it comes to earn the competitive edge.
Hence, if you are planning to invest in a mobility solution, make sure the solution performs for your business exactly the way you want it to. You can get in touch with reliable enterprise software development companies that offer end to end enterprise app development services.
In case, you already have a mobility app, but it's not performing satisfactorily, you can also get in touch with these companies to get consultations on how to improve the functionalities of the app. Remember, the enterprise mobility app should help impact the business efficiency, enhance employee engagement, and streamline the business operations. So, if your off-the-shelf solution is not doing the same, and you want a customized solution that works wonders for your business, you know where to get help :-)
Read more : Off-the-shelf vs Custom ERP - How much does custom ERP cost?