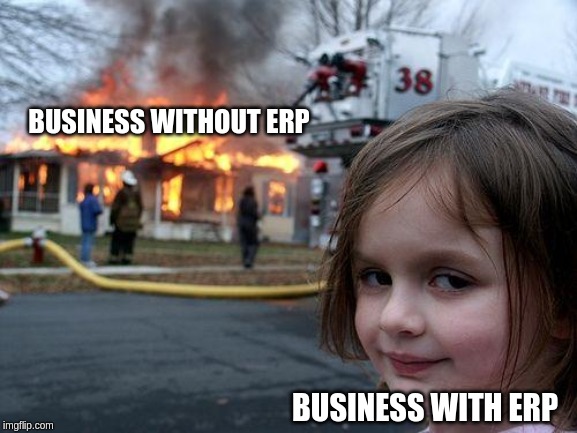 According to Panorama Consulting 2018 ERP report, 95% of businesses experienced an improvement in their processes after implementing an ERP system. But Enterprise software development has its own share of struggles - multiple decision points and numerous factors to consider before even starting with the development.
We, through our article, aim to make the process of developing an enterprise software easy for small and mid-sized businesses as well as enterprises. We explain the 5 crucial things that all businesses must keep in mind before custom enterprise software development. We also briefly explain why PHP is still the best choice for custom ERP development?
Why businesses implement custom ERP?
A fundamental question - What ERP does? And why does my business need one? We will let some statistics take care of this :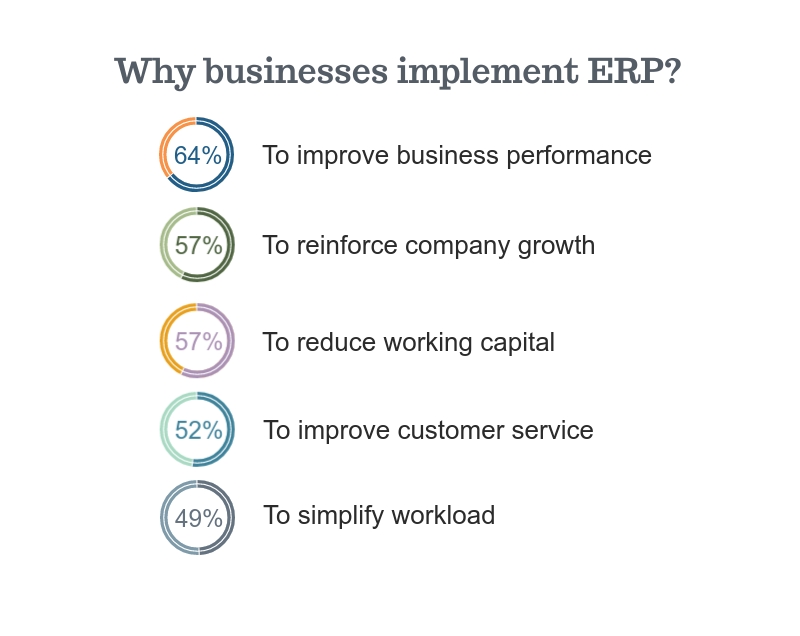 Source: https://financesonline.com/erp-statistics-analysis-of-trends-data-and-market-share/
In easiest words, organizations use enterprise software to reduce human errors, automate mundane repetitive tasks, save time, increase efficiency in business processes, generate actionable information from Analytics etc. Lack of ERP software can lead to redundant data, unaligned business processes, and the inability to track business processes in real-time.
But, this post is about custom ERP development. So, let's get there. No two organizations are the same and neither can they ever have similar business processes. The aim of any sort of custom development is to provide a competitive edge to the company. Custom ERP software development does the same - it gives you a competitive edge over your competitors as the system is uniquely built for your organisation's business process and no other organization can leverage the benefit of the same as you own the IP rights to it.
Read more: Custom ERP and off-the-shelf ERP
What to keep in mind while developing a custom ERP?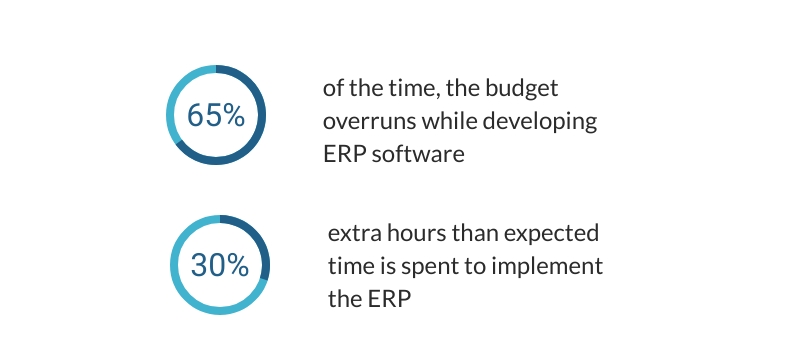 As the above data suggests, companies waste millions of dollars and some thousands of valuable hours on ERP systems that just don't work. We will provide tips on "how not to join the club'' in the below section.
Many people think that coming up with the idea of ERP development for business is all that they need to do. The rest will be handled by the ERP software development company. Well, sorry to wake you up from your fantasy. Before you embark on your journey, be sure you keep these points in mind:
[1] Understand the company goals and objectives
Let's get something clear: You don't need everything! Businesses opt for custom software solutions so that it can be packed with only the unique functionalities that one's organization requires, making it personalized and a whole lot of less cumbersome. Remember this!
Keep the major reasons why you are spending money on custom ERP development in mind. Consider the current challenges that your company is facing due to lack of an ERP and how Enterprise software development can help in reducing or nullifying those inefficiencies.
Also, keep a tab of the budget, the organization has. This will help keep the functional software requirements ( we'll talk about it in the next section) in check. Keep the absolutely necessary features and all the other features that can wait, keep them for the next release. This will help with curbing some amount of costs.
In case of an improper judgment of business objectives, companies will again need to further customize the ERP and that will spike both costs and development time.
[2] Functional software requirements
"Requirements" are what your business needs from an ERP software solution. While you evaluate what features are a "must-have" for your ERP, keep in mind that this software needs to automate multiple business processes and provide a comprehensive data analysis and reporting.
Don't forget mobile users. In this era of BYOD, making ERP access only through desktop or laptop doesn't make sense. Develop an ERP solution that allows mobile access for users and at the same time keeps sensitive data secure.
Keep a list of features handy and also a user flow of how your employees will interact with those features. This will help the ERP software development company to understand your requirements in more detail and provide an efficient time and budget estimation too.
For ex: If you are a hospital and you need to develop an ERP, the features would be :
[1] Registration, ADT and Information Desk Module
[2] Births and Deaths Registration Module
[3] Pharmacy Information System
[4] Laboratory Information System
[5] The Online Appointment Scheduling module
[6] Materials Management System
[7] Human Resource Module
[8] Casualty & Emergency Management System
[9] Downtime Electronic Medical Records Management
[10] Statistics and Reporting Module
……. And etc, depending on your business needs.
Read more : 5 top Enterprise application development trends of 2019
[3] Hire a team you trust
Let's start with an overview of percentage of organizations in various industry verticals that have already implemented ERP.
Source : Hubspot

When you are building custom software, no matter what type, a big chunk of whether your software will be successful or not depends on the custom software development company that you hire. And hiring software developers are tiresome and time-consuming.
Look for an ERP software development company that knows its basics and has considerable custom ERP development experience. They should be very proactive when it comes to requirement gathering and analysis and should give their own views and suggestions wherever required.
See, at the end of the day, the company that is developing enterprise software knows about ERP development better than you. Their words and actions must prove this. Also, they must be very fluent in their communication and should effectively use technology to curb the time zone difference (If you outsource software development).
Also, they should be clear with their approach from the very first day and must commit to delivering whatever promised on time and within budget. Take a look at their testimonials and talk to their past and present clients to make sure they understand the commitment and live up to it.
Finally, they should be an extension of your team, rooting for you to succeed. This is the team you will trust with developing the most important business software, so, hire wisely.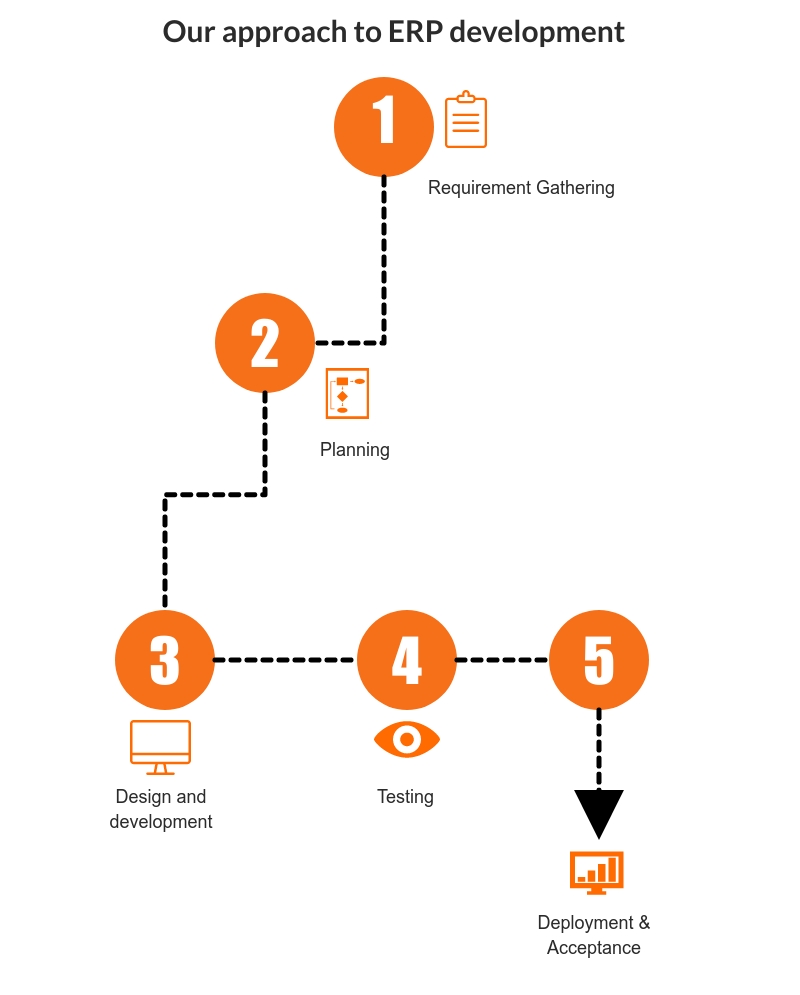 [4] Architecture choice and scalability
Again, keep in mind that your ERP needs to have an architecture and technology that emphasizes scalability, performance, and security.
Scalability - Your organization will grow and your ERP needs to grow with it. The architecture must support rapid growth, without any performance drop.
Performance - Your enterprise software must be fast and efficient so that it can provide end-users with a high-quality experience. Any disruption in performance will cost the business a good amount of money. So, making sure ERP performance is up to the mark is essential for business continuity.
Security - Enterprises work with data and lots of it. Any sort of security breaches can put a company's future at risk. It's imperative that companies establish strong security measures to safeguard their networks, software systems, and databases.
Given those parameters, make sure you and your Enterprise software development company choose such architecture that makes the cut.
Another important part of this, Cloud or On-premise?
This can be another topic for an article altogether, but keeping it short, where should your ERP be hosted is one of the concerns.
Cloud-based software is hosted on the cloud vendor's server and one can access it via a web browser
On-premise software is installed locally, on a company's own server.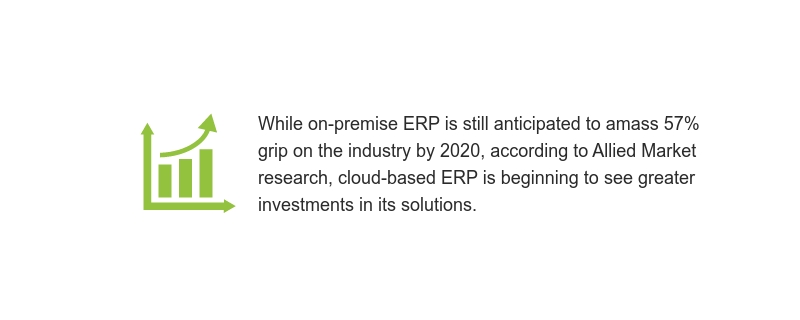 Source : https://www.alliedmarketresearch.com/ERP-market
Here are some important factors to consider when weighing your options:
Costs - On-premise solutions mean significant upfront capital expenditure. This includes servers, IT maintenance, perpetual license fee depending on the users and features required.
Cloud-based architecture, on the other hand, follows the "pay as you go" model. One needs to pay a monthly fee and there is no additional expense on IT staff and maintenance either.
Security - With cloud software, your security is limited to the top cloud providers. With on-premise solutions, your data remains in-house, and the IT team will be responsible for providing security.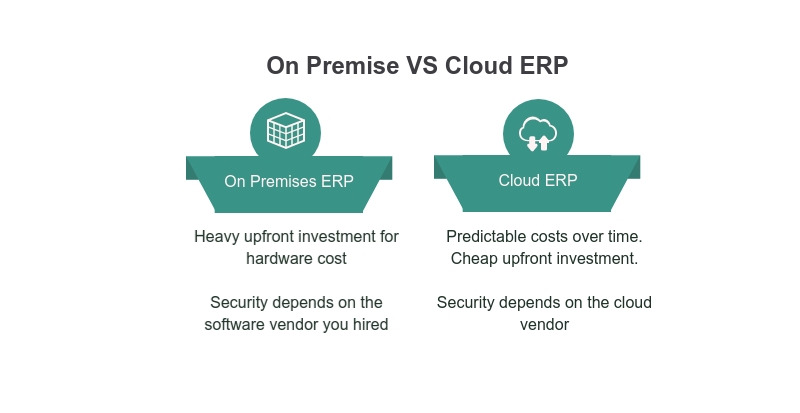 [5] Testing
Once you have an ERP software development team and both parties know what the requirements are, the ERP development starts. Once developed, the job doesn't end there. A custom-developed ERP needs a thorough testing in order to see how well it mimicked your company's existing business processes.
The majority of the ERP projects fail because of a lack of proper testing before launch. Thorough testing from the beginning of development prevents unwanted surprises and significantly reduces the no. of bugs.
Why develop ERP software using PHP?
Till date, 70 out of 100 web applications are still developed in PHP. So, if someone tells you that don't develop your ERP in PHP, just ask them to take a look at these stats. In Binaryfolks, one of the basic environments to develop Enterprise software is PHP. We will give you 4 data points, so that you can decide for yourself, if you want to develop your ERP in PHP or not :
Security: PHP 7 was released with a lot of security upgradations that revamped the face of PHP security.
PHP accelerates development speed. The tools, features and the code snippets that the open-source PHP frameworks provide helps accelerate the application development.
PHP means low development costs. PHP is an open-source server-side programming language, supported by a very large and active community of developers, so development cost is always lower.

Binaryfolks is a PHP application development company for the past 8 years and we observed that PHP frameworks build better enterprise software. Apart from PHP, Java is also great when it comes to enterprise application development. But development teams working with PHP can create software that is just as scalable and reliable like Java, but at half the cost of Java. Moreover nowadays, PHP is backed by powerful frameworks like Symfony and Laravel.
Read more : Enterprise Application Development challenges and how to overcome them?
Before we go
Tailoring an ERP system takes time and effort from both the client as well as the development company's side. Make sure you know what you want in your ERP and have a document of all the crucial features ready. Choose the development company that's the best fit for you and make sure the architecture is scalable, reliable and secure. Rigorously test the ERP from the very beginning.
Remember, a custom ERP system is a very important part of your business and can be customized as and when your company grows. In case, you are further curious about developing an
ERP, contact us and we are happy to walk you through.