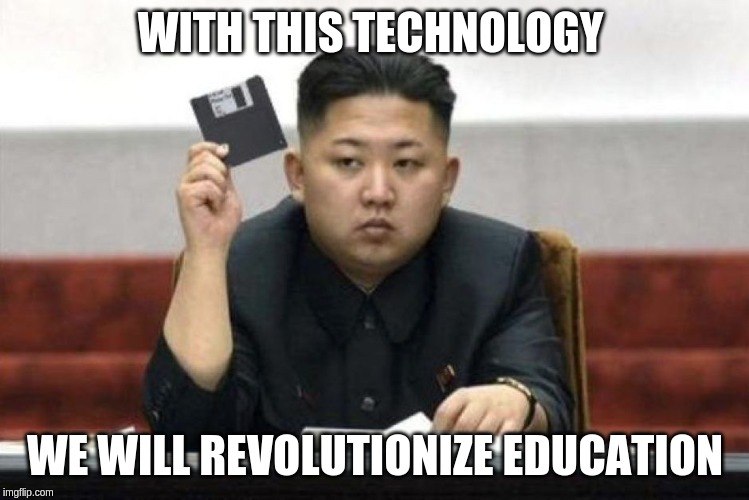 There is no denying that without technology, this dynamic world is meaningless. As technology advancements keep on penetrating our lives, today we will stress on the importance of technology in education.
"We need technology in every classroom and in every student and teacher's hand, because it is the pen and paper of our time, and it is the lens through which we experience much of our world." – David Warlick
According to Techjury, the worldwide e-learning market is projected to be worth $325 Billion in 2025. The kids born between the mid-1990s and mid-2000s saw the most advanced and game-changing periods of technological advancements in human history. For most of them, smartphone usage is their second nature. It affects how they eat, live and breathe. So, why not how they learn?
It is essential that technology is integrated into the classroom. Technology helps both students and teachers to collaborate better, encourages them to be creative and innovative and learn new things leveraging the device they love the most, i.e. their mobile phones. At BinaryFolks, we understand this impact of technology on education very well. We will start by stating a few reasons to help you understand how important technology is in education.
Why is technology important in schools?
[1] Education becomes accessible to all and accommodates everyone's needs
With technology-based learning, there is no dependency on an institution or an instructor. Students can learn from the comfort of their home at any point in time in the day. Edtech boosts engagement by participation and interaction between the students, the student and the teacher, and the student and the content.
Edtech also broadens the horizons of students as it exposes them to the world outside their city or country. Ability to share their own ideas and explore ideas given by others via forums and online discussions help learners assess their qualitative knowledge and increase their collaboration with one another
[2] Technology increases knowledge retention rates
After one hour, people retain only half of the information presented to them. After one day, they forget 70% of everything they've learned. After a week, that no. increases to 90%. Technology helps in improving this scenario. eLearning is supposed to increase knowledge retention by 25% to 60%.
This is because visual information is captured by the brain quickly and is processed better. Using technology in education like gamification, mobile learning, microlearning, VR based learning, etc. increases student engagement and helps with knowledge retention.
Also, repetition aids retention. With educational apps, learners might be asked to attend a quiz on the module they learned earlier before jumping to the next one. Practice, indeed, makes a man perfect.
[3] Students take ownership of their education
Technology when enclosed between the four walls of the classroom, can sometimes suffocate kids. Not everyone learns at the same pace. Not everyone gathers up the courage to clarify their doubts in the class. Elearning promotes learning at own pace.
The one size fits all concept doesn't exist anymore. And with learning becoming so accessible, nobody wants to study a curriculum that everyone already knows. With edTech, providing personalized and customized learning content is the trend.
Personalized learning means setting the pace of learning in such a way that they are optimized for every individual learner. Learning objectives and approaches, as well as content, are tailored and optimized for every learner. This helps the students set their own goals and learn at their own speed.
This availability of resources allows students to personalize the learning and study at a pace they are comfortable with. Students can play, pause and re-watch a complex concept as necessary. Also, the emergence of flipped classrooms where students are provided with materials online, outside of class and are encouraged to apply their learning, through exercises, in the classroom helped students learn at a pace that works best for them.
[4] Track progress dynamically
Evaluating learner's progress over time helps educators track how they are improving and also provide valuable feedback on the progress. It helps both students and teachers set their goals and achieve them. Plus, tracking also helps teachers stay invested and measure the effectiveness of a course or curriculum by visualizing trends in student data.
With so many edTech applications already existing in the education sector, tracking also helps one understand what is working for the learners and what's not working. With the education apps, teachers and parents have access to track the marks, user completion status, no. of attempts, duration of use, etc and see how they are progressing over time. This helps keep both teachers and parents in the loop with the learner's progress and their learning trends and patterns. 
Now, of course, there is a huge array of technologies that are already being applied in the education sector to give Students a competitive edge.
Applications of technology in education :
[1] Integration of AR and VR in a device
Immersive and interactive learning with the help of augmented reality and virtual reality ecosystem helps revolutionize learning. An example of this is Zspace. Zspace let users manipulate objects by picking them up, rotating them, sizing up or down and changing the object's color or shape. Also, users can view the objects from any angle and simulate the perception of depth.
[2] Smartboards
A smartboard is an interactive whiteboard. It allows different forms of media (Images, videos, graphs, etc) to be displayed and interacted with. As it's a touch board, multiple students can interact with it at once. Smartboards facilitate hands-on and enriched learning experience by projecting visual elements. Making learning fun again!
[3] 3D printing
Imagine having a cube in hand and being able to print out 3D models of that cube to find out its dimensions and surface area. What a treat it would be! 3D printing does just that.
Students can print out maps, topography, human organs, atoms, and molecules and get a tactile feedback of the concepts. Using 3D printing in schools acts as a visual aid for the learners and keeps them engaged. This makes learning effective, interactive and enjoyable. This also stirs creativity in students because now they have the opportunity to experiment with ideas, visually on a hands-on basis.
[4] Game-based learning platform
Building a sense of play around problems encourages students to engage more. Game-based learning infuses the learning process with fun. This also motivates learners to do better at every stage of the process. Game-based learning in the form of a quiz competition amongst 3 groups in a class and assigning points based on that or badges and leaderboards concept to foster a healthy sense of competition can help increase student interaction along with entertainment.
Read more: How IoT is going to revolutionize education industry
In conclusion
The overall education market is one of the largest in the world today. More than $5 trillion is spent globally each year on students in primary, secondary, and corporate learning. So, if you let your kids take an iPad to school or read from an iPad when they are at home, will their grades improve? Well, 81% of college students agree that digital learning technology helps to improve their grades.
Technology is everywhere and interlinked with our daily lives. Leveraging technology in the classroom opens up possibilities for the overall development of students. It makes learning engaging and fun. We are still in the early days of technological advancements in education - the possibilities are limitless. Developing a custom eLearning solution? Take a look at the factors and elements!