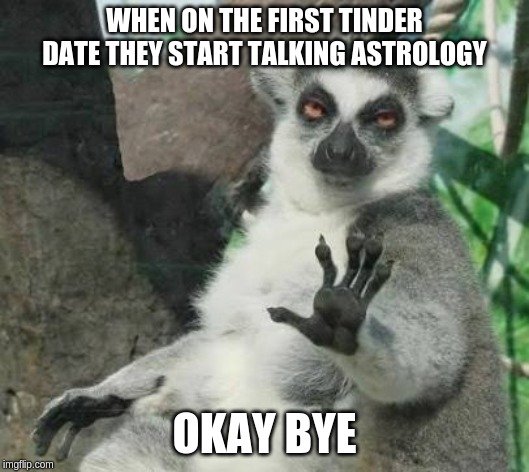 Who here doesn't know about Tinder? It's the Crystal Meth of Online Dating, as comedian Simon Taylor rightly said! But how is the dating app market and what does it take to create a dating app? More importantly, how does monetize those tinder-like apps?Let's find out.

Gone are the "How I met your mother" days where you met strangers in a pub or a park and asked them out for coffee or drinks. The world is online now and so are relationships.


Why dating apps are so popular?
Over the last few years, the whole dating game has changed. Online dating has increasingly become a more widely accepted way of meeting future partners. There are more than 7,500 online dating websites and over 2,500 are solely in the United States. And, one in every five relationships begins online.

The popularity of online dating has increased exponentially because these online dating sites made it easier and less intimidating to meet potential partners. It is extremely beneficial for busy people that lead busy lives.
These apps are also faster, portable and more efficient and can be used while traveling or grocery shopping.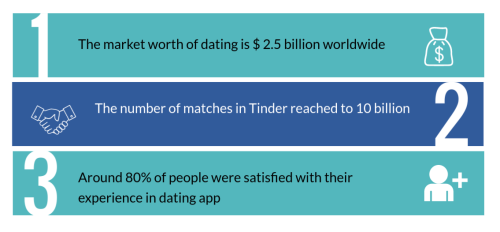 There are a few things that need to be kept in mind while developing these tinder-like apps - a matching algorithm - this guarantees that the users will meet like-minded people, someone who shares their likes and dislikes, through your app. Also, the visuals and aesthetics needs to be well covered. Let's go through the crucial requirements of every dating app one-by-one.
P.S. We also have a list of a few on-demand app features that everyone wants on their dating apps so that you get a chance to stand out from the crowd.

For starters, how do dating apps work?



So, you don't want to be the creepy guy on Instagram who hits on every girl? Yeah, me either! Enter dating apps ;) But, how do these apps work? The obvious answer - Swipe right, swipe left! But how do these apps decide which profiles to showcase and which to hide?
Every dating app has an algorithm that works in the backend. This algorithm is responsible for the matches that show up on your profile. Different apps use different matching algorithms to do what they are supposed to do - find you BAE. Some of the popular algorithms are based on :
Location
Geo-location is a widely based matching factor for comparing one profile with the thousands of profiles that are already in the database in order to suggest a relevant match.
Matching users on the basis of location helps users find matches on the basis of the user's proximity to the device. So, if you are at your friends place for a party and you wish to meet someone there, just switch on your GPS and the app shows all the preferable matches in and around that location.
NOTE: The other users' GPS needs to be turned on too.
Dating apps like Happn leverage the geo-location factor for other innovative matching algorithms. For ex: the app matches you with people that you have crossed paths with (i.e. within 250 meters). If a registered user walks by, he/she appears to be a match and also the location where you crossed paths is also mentioned.
Tinder, Happn, OKCupid, Bumble, etc matches users on the basis of location.
Personal preferences
You might have noticed that some dating apps ask a few random information when you first register. They then use this information (i.e. your preferences) to look for suitable dating partners.
Preferences like City, Gender, age, education, religion, etc can be used to swipe right or swipe left at a profile.
Also, much like Netflix, when you first log in, the recommendations are dependant on the preferences you pin down. But with time, the algorithm learns to deduce your choices and recommends matches on a wider horizon.
Questionnaire
This is also widely used now. When a user registers, he is required to fill out a questionnaire. Basic questions can include - tea or coffee, cats or dogs, messy or organized, etc. Then these answers of yours are processed and you are assigned a score.
The other users are also assigned scores based on their preferences. Then the scores are matched amongst others to find satisfactory matches.
Take a look at a similar app we developed here : DATING SURVEY AND COACHING PLATFORM
Newest trends suggest AI-Powered dating apps are in! These matching apps attempts at finding compatible partners using artificial intelligence. They attempt at making predictive matchmaking a reality. Also, apps leverage AI to provide tips to the users when they are meeting someone on a first date, like, She is traditional - a coffee bar would be the best place to hang out, thus taking the pressure off its users.
Some examples of AI- based dating apps are Badoo, Loveflutter, etc.
Irrespective of what your matching algorithm is, Binaryfolks can create a dating app for you that will match users with their Mr or Mrs. Right.

Now that we know what a dating app does, why it's so popular and also how it's algorithm works, let us help answer your question "how to make a dating app?"

How to create a dating app?
Before we move to the features and functionalities essential for dating app development, let us first walk you through what you need to know before hiring an app development company.
What is the purpose of the app? How is it different from its thousands of counterparts? Who is your target audience? What tech stack do you want to use? What features do you want in the app? How do you want to market and monetize it?
Once you are done answering these questions, you have a vivid idea in your head about the tinder-like app that you want to develop. I will start by pointing out some crucial UI/UX stuff that you should consider before the dating app development.
Dating app UI/UX
A dating app should blow away the users at the first interaction. If it's not pretty and user-friendly, it won't attract the targeted users. Build a simple but intuitive and innovative design. Make sure the UX is extremely easy.
As dating app development means swiping left and right, make sure the transition is extremely smooth and effortless. Make sure viewing a user's profile is not an ordeal. Also, adding the profile for every user should be super easy. A complete profile with likes and dislikes gives a better sense of their personalities to their matches.
All over, the app should have a simple yet alluring UI/UX and operating the app should be a piece of cake.
We now come to the features essential for creating your own dating app :
Social sign-in
Gone are the days when users would type in their email ID and name to register. So social sign-in feature is compulsory. Also, with social login, the need to remember new login information is eradicated, making it easier for your users. For dating app builders, social sign-in means an opportunity to gain recognition in social media.

User Profile
The user profile is the first impression for every dating app user. And as the saying goes, you never get a second chance to make a great first impression. The app should collect basic information like name, country, the city from the social profiles so that users don't need to spend time on it. Build an app that has an attractive UI/UX for the user profile. Also, there should be an option to edit additional information like age, interests and a bio. Make sure they have a section to add their pictures or sync the dating account with Instagram.
Geolocation
Geolocation will play a very important role in the dating app when it comes to matching. For this purpose, you would need to know your users' location. Also, offer the users an option to choose the area of search and enlarge or reduce their search zones if they require.
Matching
Matching compatible users is the most crucial part of online dating apps. It's simple math. Like mentioned previously, while creating these apps, you have to keep in mind the criterion or criteria that you have to match people on. You can create a set of questionnaires that users will need to answer before onboarding. Or, you can use AI for matching. Other than these, the traditional filtering works too.
Whether the app you want to build matches people on the basis of an algorithm or matches people on the basis of filters, we will help you create a dating app that will help your users choose their potential love interests.
Swiping left and right
Or maybe up, just like Tinder ;-) This is universal in all dating apps. So, when you create a tinder-like app, keep the swiping in mind. Right swipe means a match and left swipe is skipping to connect. Traditional and Simple.
In-app messenger
Okay so now your dating app has a user profile and it also matches users with suitable partners. So, once both parties like each other and it's a match, they will need to communicate. Users will initiate a chat with his/her match on the in-app chatbot.
Let's admit, users can get unwanted and inappropriate messages when they are matched to someone. Provide an option to leave a conversation if someone is not interested to talk anymore. Also, make sure that only when the matches are reciprocal, can someone send a request to chat. This way the tinder-like app that you are looking to develop will have high user retention rates.
Notifications
Users need to be reminded that they have a potential match or someone is waiting to chat with them even when they are not active on the app. Notifications are the best way to let them know. This will stimulate user engagement and you will have a better opportunity to communicate with your users.
Admin module
Create a dating app that has an admin panel. Your backend admins should be able to configure app settings, block users, manage content strategy and provide 24x7 support.

If you take the above features and assuming that you will have some sort of matching mechanism in place, developing a dating app will take anywhere between $15K - $50K.
Now that you have created your own dating app, the next question is "How to monetize the app?? How do dating apps make money and is it difficult for dating apps to generate revenue?
Revenue generated by dating apps is around $ 1,221 in 2019 whereas, in 2023, it is expected to rise to $1.447 million.

How to generate revenue with your dating app?
[1] Freemium model -
Provide all the basic features for free and for additional features, charge them extra bucks. Ex: 50 swipes a day for the free model, unlimited swipes for the premium one.
[2] Referrals -
Provide some discount to people who introduce their friends or colleagues to the app.
[3] Advertisements

-
Advertisements are the easiest source of revenue for any sort of online applications. But don't go overboard with them. People will get irritated and disown the app.
[4] Gifts & Services -
Doing things the old way. If someone is going on a first date, advice some gifts that they can order for the other person from the app itself. Also, services like book a cab or happy hours on drinks are an excellent way to monetize.
In conclusion
Create a dating app that serves the purpose. Pretty and sleek UI/UX, efficient matching algorithms, effortless swiping, in-app chatting and a solid user profile creation section will make sure your app stands out.
Worried about too much competition in this sector? Worry not! We have a few advice that will help you stand out from the huge competition and generate more revenue for your business.
[1] Make an app for a niche. Like for sailors or for divorcees. This is for starters. When your app does well here, extend the functionality to all.
[2] Make photo ID a compulsion. There are ample criminal cases that start with dating apps, we don't need anymore.
[3] Suggestions for the first date - According to a popular site, 20% of users wanted the app to suggest them a place where they can take their respective matches.
Congratulations, you have a plan! If you want to materialize on it, drop us a line and we will help you develop the dating app that you envision.