Premium Property Management Services? Check!
Latest Technologies and Features? Check!
Smooth Development Process? Check!
Hiring BinaryFolks as your custom real estate software development partner gets you all the mentioned benefits and more! Harness our cutting-edge solutions to bridge the gap between buyers and sellers on a local, nationwide, or even global scale!
The real estate industry had a revenue of $9.5 Billion in the year 2021 alone, which is expected to grow at a promising CAGR of 4.8% to reach an approximate profit of $14.6 Billion per year by the end of 2030(Statista, 2022). This is a clear sign that you're gonna need the power of custom software services in your arsenal if you want your business to stand out in this consistently growing market.
BinaryFolks Custom Real Estate Services Based on Current Market Trends
We provide a wide range of services that cater to the needs of customers and real estate agents alike: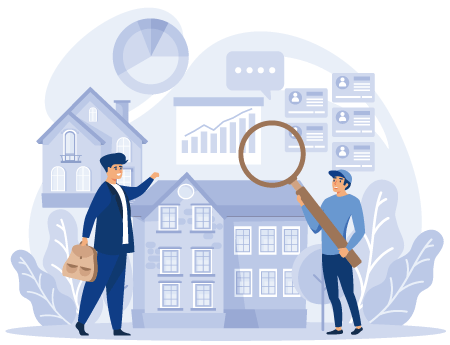 Automated Property Evaluation
Use our custom real estate software development services to develop automated property evaluation tools that provide you with a near-accurate estimate of a specific property by evaluating its value based on multiple parameters such as -
1. Property Information Analysis: it helps the tool to check every specification of the property that can affect its pricing, for example, location, area, furnishing, etc. These parameters are either provided manually or extracted from public records & other databases.
2. Similar Sales Evaluation: this allows the solution to access the data of similar properties recently sold in the same area to give you a more refined quote for a property.
3. Capitalizing on Available Data: you can further enhance the accuracy of your guesstimates by taking the current trends into account, for example, interest rates, market situation, upcoming projects in the area, school ratings, etc.
Want to develop a premium property evaluation tool personalized for your business and equipped with all the latest features and functionalities similar to some of the best tools (like Zillow) available in the market? Check out our blog on - How to develop an app like Zillow?
MLS Development
Leverage BinaryFolks' cutting-edge technologies and develop a multiple listing service(MLS) platform that assists you to manage your property listings much more effectively. Our real estate app development services allow real estate agents to take advantage of the latest features like -
1. Complex MLS Search: search for properties with higher levels of detail, go beyond searching for basic parameters, and mention your specific preferences. The MLS tool will acknowledge these criteria, and eliminate irrelevant listings from the get-go.
2. Client Data Integration: use the client data to personalize their experience. Track their property preferences and notify them about price drops, and new listing of properties that may potentially draw their attention.
3. In-Built Communication Tools: add a communication channel for the buyers and sellers to communicate with each other in a seamless and agile manner. It can either be done by showcasing the contact details of the seller or brokers along with the listing, or by creating a messaging portal on the app itself.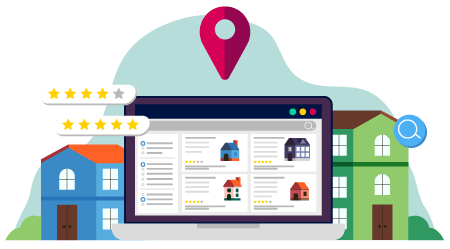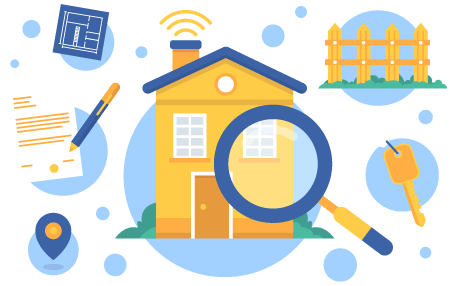 Multiple Property Management Software
Our real estate software development service helps businesses & property owners to handle multiple properties via a single application. Get custom features for multiple property types varying from residential to commercial buildings, you can also handle several routine tasks with the help of our software solutions. Here are some of the in-demand features that we recommend -
1. Easy-to-Access Applications: develop mobile applications for your property management software to remotely control the operations.
2. Tenant Management: implement quality-of-life features like automated rent collection to save the property owners from the hassle of reminding every tenant individually. Tenants can also use the application to contact the landlord in case any assistance is required.
3. Maintenance Scheduling: property managers can address tenants' requests with these features and promptly schedule maintenance or any additional service, increasing tenant satisfaction and feedback.
IDX Solutions
BinaryFolks' real estate software development services allow users to integrate internet data exchange(IDX) systems into their real estate models that enhance the utility of MLS by allowing it to perform additional analytical and automation tasks. Here are some of the primary features that our clients implement in their IDX systems -
1. Showcasing Relevant Listings: IDX solutions are used by real estate agents to display elaborate property listings on a real estate application or website. The users can check out these properties and explore each one of them in depth as the IDX system extracts data from the MLS database which includes pictures, V-tours, and other useful details.
2. Website Metrics: this feature assists real estate agents to evaluate the performance of the software by analyzing various parameters such as website traffic, SEO reports, application performance, etc. The stakeholders can use these insights to make data-driven decisions that will further improve the software.
3. Lead Management: automate the management of potential leads and sort their personal information for future reference and analysis. You can also use the IDX platform to nurture these leads by sending them alerts about any new listings that match their preferences.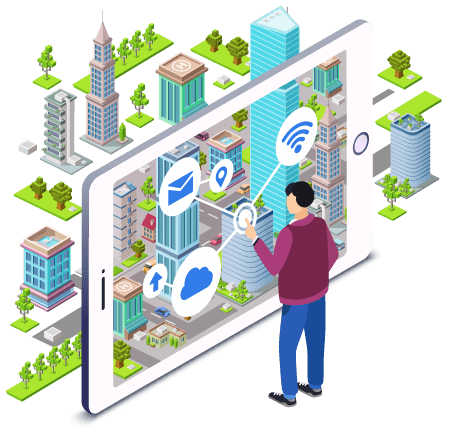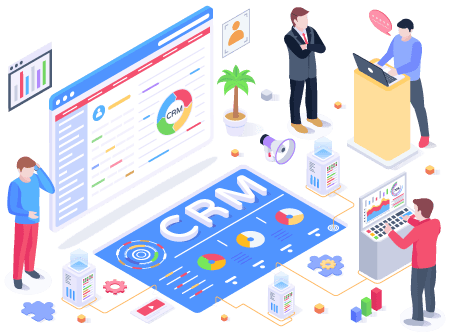 CRM & ERP Platform Development
A custom CRM and ERP solution can help your business to streamline its regular operations and minimize the number of manual tasks that your employees have to perform every day. Our real estate development services with flexible and scalable property management solutions that provide users absolute control over their business processes. Here are some of our custom CRM and ERP platforms that you may want for your organization -
1. Cloud-Based Platforms: make your enterprise platforms accessible via mobile applications and web browsers. Compared to traditional on-premise software applications these are more flexible in terms of leveraging new technologies as it doesn't require any additional infrastructure.
2. Industry-Specific Platforms: go beyond using the standard CRM & ERP platforms and develop an enterprise application specifically for your real estate industry needs. Implement features like property management, automated rent & mortgage collection, etc.
3. Analytics & BI Platforms: get real-time insights regarding your sales records, customer satisfaction, and customer acquisition costs. Use these insights to make improvements in your business operations where necessary to increase your business profits!
RETS Integrated Solutions
We develop software platforms integrated with real estate transaction standard(RETS) protocols that provide a standardized framework for the necessary data exchange between the application and the database. Using a standard format helps the application maintain consistency and allows it to identify any potential errors in the data promptly. Your application also gets access to a variety of essential datasets including -
1. Property Listings Datasets
2. Multiple Listing Service Data
3. Agent and Broker Information
4. Successful Transaction Data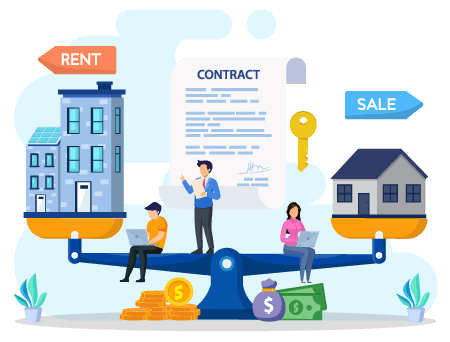 Our Technology Checklist for Real Estate Solutions
Our developers use state-of-the-art technologies to develop your real estate applications. This ensures that you receive the best possible features and performance that the market currently has to offer. Here are some of the trending technologies that our developers have successfully worked with:
Artificial Intelligence (AI)
Being the newest technology added to our property management software development services arsenal, artificial intelligence brings a number of optimization and analytical capabilities to the table. With services like predictive analysis and machine learning, AI is able to help stakeholders stay ahead of their competitors by generating insights and recommendations based on historical data and recurring market trends. But that's just the tip of the iceberg! If you want an in-depth understanding of how AI is disrupting the real estate industry, check out our blog on "Top 10 AI Solutions for the Real Estate Industry"!
Cloud Computing
Our real estate app development services help businesses to design cloud-based platforms that improve the flexibility, scalability, and accessibility of the software. Using cloud computing saves your businesses a significant amount of resources as it doesn't require an expensive on-premise infrastructure to operate. Another plus point of opting for cloud-based services is the fact that you can adjust the capabilities of your application instance based on your business requirements and pay accordingly with just a click!
Internet of Things (IoT)
We add IoT solutions to our custom software to help property owners get a clear picture of the availability, maintenance, and sustainability factors across all of the properties they own. The popular concept of a "smart home" is largely dependent on these IoT-based sensors and devices for operating effectively. Our real estate management software uses these IoT devices to automatically generate easy-to-understand visual insights for the owner/managers. These insights can be further evaluated by real estate businesses to provide customers with a better experience in the future.
Blockchain
Our blockchain integration services provide your business with a secured and foolproof transaction portal for managing purchase records in a transparent, and decentralized manner. But wait! There's more! Because of the decentralized format, the risk of scams and fraud during transactions is highly alleviated making blockchain highly dependable for real estate transactions. The escrow method can be a popular use case for this feature. Many real estate firms are using blockchain to raise crowdfunding for their upcoming real estate projects as well. All-in-all blockchain has been gaining a lot of popularity in general, and the real estate industry is developing some serious use cases for this technology.
AR/VR
As a custom real estate software development company, we are well-versed in leveraging AR/VR technologies to provide real estate customers with immersive virtual tours. This allows the clients to get a life-like feel of the property from the comfort of their homes. Additionally, the agents don't have to spend hours behind tours and demos of the property only to hear "We will contact you if we are interested to make a purchase" in the end. This is a highly efficient alternative for both parties as the customers can explore the property by themselves and only reach out to the agent when they are sure about making a purchase.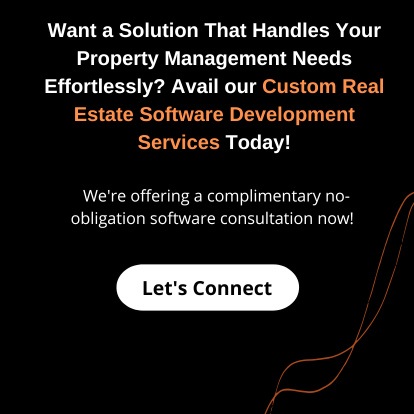 Our Featured Real Estate Projects
Our developers have hands-on experience developing custom real estate solutions for multiple businesses. Here are some of our featured projects to showcase our expertise:
IoT - Device Management and Command Center
We developed a Saas-based platform to manage thousands of mobile devices from a single dashboard where we can check the active devices, the health status of the devices, the connectivity status, disk usage, form status, and reports. Also, backups can be initiated, remote commands can be executed and auto-uploaded to the server, applications can be released, etc.
Loan Calculator
We developed an app for quick and easy calculation of loan amounts for clients interested in commercial real estate financing. Users need to insert the amount he is willing to spend on acquisition, depreciation, etc, and then need to fill in other details like loan structure and interest rate and the app will provide an instant loan estimate based on various bank and govt parameters picked at real time from the back end.
Property Management & Inspection Platform
We developed this advanced property look-up application where users can search for properties by their full or partial address, country, state, zip code, locality name, street name, etc. to visually locate their intended property and then can buy reports, if available. If there are no reports of that property, then they can make a request to inspect that property and get a report.
What Makes BinaryFolks your Perfect Real Estate Software Development Partner
There you have it, a firm foundation of the trending services and technologies in the current real estate market. But we are not done yet! Here are some additional points that make our services unique compared to the other real estate software developers out there!
Our Cutting Edge Solutions Helps With Designing an All-in-One Platform for Your Property Management Needs!
Our custom real estate software performs exceptionally even with a plethora of features! Most software development companies tend to avoid developing custom software with a large number of features as it complicates the UI, which has a negative effect on the user experience, but that's not the case for us! Our developers have hands-on experience in developing complex software with a professional and user-friendly UI.
Our Developers are Here to Rescue Your Business from Falling Behind in This Ever-Evolving Market
Well it can be daunting to work for months on developing a software solution only to find out the market now has a better version of the model with additional useful features, however, it's not as bad as some people might think. In fact, this is one of those scenarios where custom software really shines! You always have the option to add additional features to your pre-existing software without making a new model from scratch.
Get Complimentary Real Estate Consultation From Our In-House Experts
We covered all the popular use cases of real estate software that will most likely cover the needs of 90% of our readers. But in case you belong to the remaining 10% of readers who are still looking for a solid answer to your "Will a custom software fix my business pain point?" question, then let me tell you, you're our favorite! (We love you as well - the other 90% <3). Anyways, call it a challenge, call it a new brainstorming exercise, whatever! We always love to discuss something we haven't thought about yet! Here's an idea, how about we strike a deal? You share with us your unique business pain point and we use our expertise and big brains to get back to you with a well-thought solution! Sounds Fair? Cool! Let's begin!
Multiple listing service(MLS) software allows real estate brokers to list and manage multiple properties across different geographical locations. MLS can help real estate agents to perform additional tasks such as searching for specific properties, analyzing market trends, managing contracts, etc.
Follow these steps to design a professional real estate app:
1.

Decide your app's functions and features

2.

Choose a development platform

3.

Design the application

4.

Test the application

5.

Release the app

6.

Market it to the right audience
The exact cost of developing a real estate app depends on the features and scalability of the app. Developing an MVP with minimal features may cost as low as $20,000 while developing a feature-packed solution model with all the latest features can cost up to $100,000 or more.
Zillow is a complex real estate software with a wide range of features that include some of the cutting-edge technologies currently available in the market. However, you can expect to spend at least $100,000 if you wish to develop an MVP model that is identical to that of Zillow.
The main purpose of a real estate app is to help individuals to buy, sell, or rent real estate properties. These real estate apps help users to save time & money by allowing them to search for properties with additional filters like area of the property(sq. ft.), price range, location, etc.
Real estate applications monetize the additional services they provide on top of the core features of the applications:
1.

Commissions on property transactions

2.

Subscriptions for bonus features

3.

Featuring specific properties

4.

Displaying advertisements within the app
Looking For Custom Real Estate Software Development Services?
Talk to the experts!