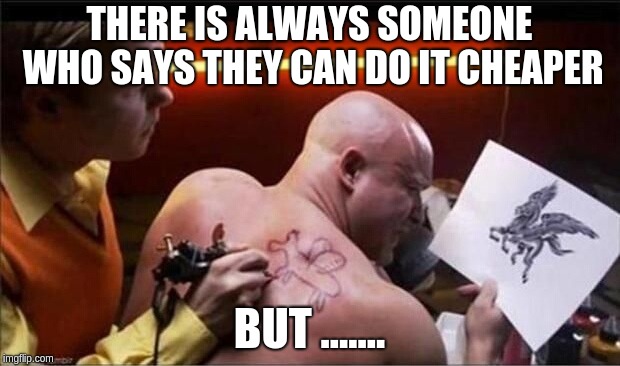 Custom software development is costly. Mostly because everything is built from scratch. We, in this article, provide you with some industry verified tips and tricks that will help reduce software development costs so that you can afford a custom software solution without compromising on quality.
The inescapable question that every software development company has to face whenever they are set to onboard a new customer - How much does software development cost? We all know how this goes.
This is a difficult question to answer even if you have decades of experience in software development. This is simply because the cost estimation for software development has a lot of variables, each of which is interconnected to one another. If you want to know more in detail about estimating software development costs, we have an article for you.
Why custom software development is so expensive?
Custom software development is far from quintessential and thus, the word "custom". Each custom developed software is a cluster of innovative ideas and business logic.
Custom software means a comparative advantage for businesses as every software is unique and your competitors have no idea of the strengths or weaknesses of the software. This induces demand for custom software and demand results in subsequent high software development costs!
Also, the development of a bespoke software means a lot of effort by the complete software development team. Where there is an effort, there is cost.
So, is there even a way to develop a custom software without losing all your money, u ask? Yes. In this article, we will provide 5 industry verified tips to reduce software development costs. Take a look!
There are 5 simple but useful strategies

that help any cost-focused company to invest smartly in custom software development :
[1] Outsource your software
Outsourcing software development to countries like India, China, Ukraine, Mexico results in almost 40% decrease in software development costs. Initial cost savings come in the form of absence of in-house salaries, perks, taxes, benefits, etc. Also, almost zero spendings on software architecture as well as physical capital investment.
Also read: Why outsource software development to India
Software outsourcing also means being able to pick and choose developers and designers on the basis of any technical criterion at a much lower cost. This is because these countries have an enormous pool of talent that is specialized in all old and new technologies.
The wage difference between these countries and their US counterparts result in a huge software development cost reduction. But, at the same time, low software development rates don't necessarily mean a low price-quality ratio.
With the enormous pool of talent, quality is ensured in every step. You have to do your due diligence and find yourself a software company that is capable enough to complete your software project efficiently. Ask these 5 questions to the potential software development team to make sure you get exactly what you are paying for.
[2] Document your requirements
You know your requirements the best. Start with a pen and paper and start jotting them down. This is basically to avoid ambiguity in requirements. While consulting a software outsourcing company, request them to take a look at this document so that they have a brief initial idea about what the project is.
If the requirements are misinterpreted or not read in its entirety, it will result in the haphazard design, improper functionality and will lack specificity, resulting in an increase in the cost of developing software.
Any software company would be happy to take a look through a proper requirement document and get back to you with the questions they have regarding the software. Also, if they already have a detailed document, they don't have to spend much time and effort in documenting them again. Of course, they will need to make many changes in the document but the initial effort is lessened.
This will reduce the overall software development costs and save time for you, helping you focus on other important business problems.
[3] Communicate well
Communication is the holy bible of software development. You have to make sure that your requirements are understood by the software team. Every deliverable, every constraint, and every assumption will add to the software development cost.
Start with daily meetings where both parties discuss the complete flow and ask the software team to document it. Now treat this document as the roadmap. Any deviation from this spec will cost extra bucks. Knowing this will effectively minimize guesswork also decrease the potential latitude for cost increase and project failures.
At Binaryfolks, we divide every software project into milestones. Every milestone has tasks underneath them and a fixed time estimate to complete the task. After each milestone, we provide updates to our clients so that there is optimum transparency in the development.
This method also results in effective communication as the client is updated with every step of our development process. Also, clients have full visibility about the progress and health of the project and there are no negative surprises during project delivery.
[4] Test! Test! And Test!
One should always start testing the software and it's user flow early in the software development lifecycle. Errors or bugs often starts to accumulate during the requirement or design phase and then disseminates eventually.
Testing in the initial phases means identifying issues and bugs quickly and prior to the development of the complete software. This avoids sub-optimal application quality.
Also, bugs discovered during the later phase of software development means a lot of re-design and re-work and re-work means additional costs. It might also mean a red flag for the release.
Involving QA from the start bring potential issues and conflicts to surface and also, questions any functionality that might not have crosses the customer's or the software development team's mind. And obviously, saving a lot of money in the process.
[5] Prioritize the absolutely necessary features and eliminate " the so-called nice to have " features for Version 1
When it comes to software projects, stakeholders are generally excited and they require a whole lot of features for the software. This is before the costs are drawn.
Make sure you know the critical features of your software that are absolutely necessary for the first version. Keep in mind, when it comes to custom software development, an unabridged solution might take a few versions to roll out.
Start with a small chunk of software with essential requirements and once it proves to be valuable and profitable, subsequent extensions of the software is always an option. This will reduce development costs and also help carry out market research to forecast how your clients are embracing the product.
DO YOU KNOW :
McKinsey found that 66% of Enterprise Software Projects Have Cost Overruns. This number is staggering. Why is delivering top quality software within budget and time so difficult for software development companies?
Why software costs overrun?
[1] Not discussing the scope in its entirety.
Often software companies think that discussing the scope at a high level will save the company as well as the client some time. So, they get an overview of the software the client wants to build and assumes the rest of the things. Software projects, in this case, will invariably fail.
[2] Lack of proper planning
Planning is a very important component of estimating software development cost. You need to know exactly what the requirements are and the tasks that you need to do to complete the project within the specified cost. So, planning is necessary for resource allocation and management.
[3] Communication
This point can be accredited both to software company as well as the clients. Over-communicating and micro-management is a problem. Under-communicating is also a problem. Clear-cut communication between the outsourcer and the outsourced is the differentiating factor when it comes to cost.
[4] Underestimating testing
Testing is basically done to make sure that the software runs without bugs. But, if testing is done prior to the complete development or when the code is in production, solving bugs become more expensive.
There is more…
Whenever we talk about software development costs expanding, planning inadequacies and lack of communication are the absolute essential reasons rather than technical incompetencies or unattainable requirements. I just briefly selected a few hacks that will help you effectively outsource software development projects at a much lower software development cost without giving up on quality.
To sum it all up, when there is a proper foundation for the application and a very clear idea in mind, software development can be more affordable than most people realize.