If you've been on a quest to find a custom logistics software development company that can help you build tailor-made solutions exclusively for your business, then congratulations, your journey has brought you to the right place!
We focus on the custom approach of developing applications instead of implementing the standard off-the-shelf models that are available in the market. Here's why - the logistics industry is currently valued at $9.53 trillion and is expected to reach as high as $15.02 trillion by 2027(Statista, 2023). Meaning the abundance of opportunities and competition isn't dwindling anytime soon.
However, in order to effectively capitalize on these opportunities you gotta stand out from your competitors & create your own identity in the market. This might not be possible with a piece of technology that everyone else has access to. Don't fret though! With our custom software development services, your logistics business will soon be ready to leave its mark on the market!
BinaryFolks' Custom Logistics Solutions
The logistics industry includes multifold operations and every stage of the operation demands to be flawless to ensure a seamless and efficient workflow. Here's a list of our top operational solutions that focus on optimizing the core aspects of every logistics business: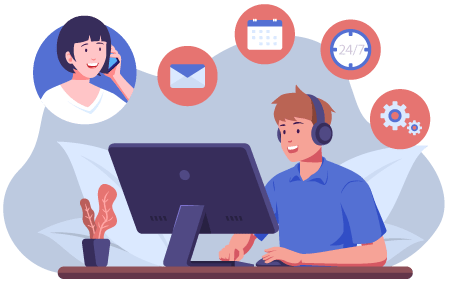 Customer Acquisition Support
Getting a hold of genuine clients is probably the most crucial part of any business, lucky for you, our custom logistics software development services assist businesses to do just that! We analyze the market trends along with your user-generated content(UGC) to design solutions that dramatically improve the customer retention rates of your business. Some of our customer acquisition services include:
Dynamic Pricing: analyze the market trends as well as your competitors' listings to dynamically change the pricing of your services & provide the customers with a fair price while simultaneously keeping optimal profit margins for your business.

Feature-Packed and User-Friendly Interfaces: never let a complicated UI be the reason for missing a client, make your application feel welcoming and easy to understand for customers of every demographic.

Sentiment Analysis: evaluate a large amount of customer feedback to understand their requirements. Make changes to your services accordingly or provide personalized recommendations and offers to satisfy the customer's needs.
Warehouse Management
Logistics business demands near-perfect accuracy & efficiency with little to no errors when it comes to warehouse management operations. Implementing bespoke warehouse management software helps a logistics business to streamline operations such as:
Inventory Management: use technologies such as IoT and AI in inventory management operations to ensure seamless multi-order tracking and inventory issue detection at the root and thus, zero delays in product shipping.

Quality Control and Packaging: image recognition tools and automated industrial robots help in verifying the quality of the packaging of a large number of orders in a consistent and error-free manner.

In-House Automation: build custom collaborative robots to make inventory management an effortless task, additionally, handle heavy objects and complicated orders with ease.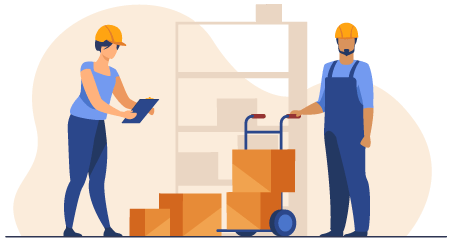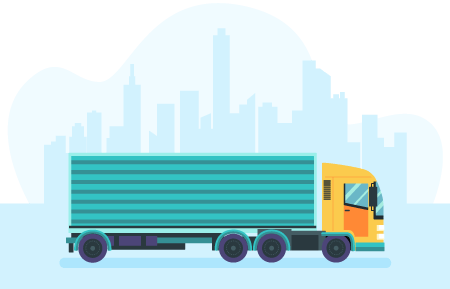 Shipping Units Management
Leverage BinaryFolks' custom transportation and logistics software development services to manage and monitor the shipping operations of your business from a single interface. Here are some of the in-demand features we include in our service:
Real-Time Tracking: track your shipping nodes remotely and get updates on any disruptions. Keep the customers updated about the events & shipping milestones from time to time to achieve a transparent operational setup.

Route Optimization: with technologies like GPS, machine learning & optimal route planning algorithms, custom logistics software suggests shipping vehicles with the most efficient routes available, enabling faster deliveries.

Automated Maintenance Scheduling: install a custom vehicle tracking system that constantly checks and displays the vehicle's health to a supervisor and automatically schedules maintenance whenever necessary.
Order Processing Services
Know the exact whereabouts of every package with the help of a custom logistics management system and provide your customers with real-time updates for their orders, improving the transparency of your business and ultimately customer satisfaction. Here are some of our well-thought-out order-processing services:
Follow Customer Instructions: highlight the customer's instructions to the delivery agent to make sure the customers receive the package the way they feel comfortable. For example - an instruction like "deliver at a specific ToD" (Time of the Day), "leave it on the porch", etc.

Ensure Package Safety: provide favorable delivery conditions for certain products like perishable & fragile goods and constantly monitor the physical conditions they are being delivered in, to ensure the best quality at the time of delivery.

Packaging and Planning: automate the planning of packaging and delivery of products to use every square inch of each one of your delivery nodes effectively. Help your business boost its profit margins by creating an efficient delivery infrastructure.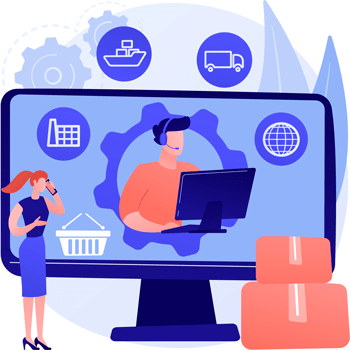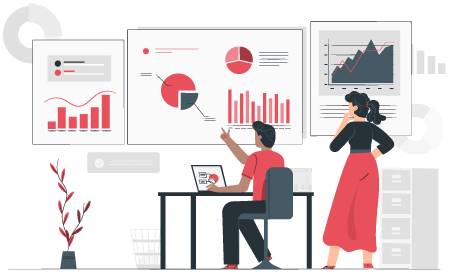 Data Analysis and Insights
Design custom logistics software solutions that evaluate the business data to draw vital insights that directly influence business operations to yield better results. Here are some of our key data analysis services:
Predictive Analysis: analyze the business data to identify potential bottlenecks that can be optimized to enhance the overall performance of the business.

Customer Satisfaction: evaluate large sets of customer data to understand your business' market reputation. Address the most frequent issues the clients are facing to enhance their experience and amp up your business's customer loyalty.

Employee Analysis: track the performance of each employee and issue incentives to the leading performers. Help the underperforming employees to improve with proper training and motivation.
Some Popular Service Models to Help You Get Started
The implementation of a custom transportation software development service can significantly change the shipping dynamics of your business with the wide array of use cases it offers. This is the reason sometimes it can be difficult for you to distinguish the priority solutions you may need to implement immediately, from the ones that can be implemented later. So, to save you from getting overwhelmed by all the available solutions, we have discussed some of the most popular use cases that businesses are implementing these days:
Fleet Management Solution
We develop custom fleet management systems(FMS) that allow you to track your shipping nodes remotely and include additional features that help you avoid some of the major operational disruptions. Here's a list of some of the in-demand features that our clients include in their FMS:
Asset Management: check various details about the vehicles including node availability, node health, fuel consumption, etc.

Application Support: make the FMS accessible via various devices including smartphones and browsers.

Integration with Other Systems: collaborate the fleet management solution with other relevant solution systems.

Vehicle Tracking: track the location of each vehicle and update the parties involved.
Supply Chain Visibility & Optimization Solutions
Our developers have hands-on experience with developing feature-packed supply chain models that will provide you with a clear picture of your infrastructure's performance. Additionally, you can highlight your services or any optimization opportunities with the help of some of our custom features like:
Sustainability Analytics: monitor your business's energy consumption and waste produced to mitigate these parameters.

Collaborative Capabilities: collaborate with the suppliers and partners to provide your customers with a better user experience.

Push Notifications: auto-generate updates for the user's delivery, and showcase offers to increase the number of repeat customers.
Last-Mile Delivery Software
Our transportation software development services help businesses to design robust last-mile delivery systems. As the name suggests it's the last step of the package delivery cycle, however, instant delivery businesses like on-demand food & medicine delivery services are also using this software for their operations these days. Here are some primary features that you might want to add to your last-mile delivery software:
Delivery Agent Tracking: track the delivery agent in real-time to offer the clients an exact estimate of the 'time of arrival' for the order.

Proof of Delivery: add an extra layer of verification to make sure the package is delivered to the correct recipient.

User Feedback: collect the user's feedback to make sure your suppliers and delivery agents are providing their services properly.
Demand Forecasting Software
Leverage our logistics software development services to develop detailed demand forecasting software that will assist you to predict future events and use those insights to optimize your inventory and other relevant business aspects. Here are some of the top features that will help you accomplish the same:
AI-Backed Tools: harness the power of AI-based technologies like predictive analysis and machine learning to predict upcoming industry trends accurately.

Integration with Other Systems: enhance the capabilities of your demand forecasting software by integrating it with CRM and ERP systems to feed the necessary business data.

Custom Dashboards: design a one-stop solution to supervise and monitor multiple business operations from a single device, and get auto-generated reports and visual insights to understand the business's overall performance.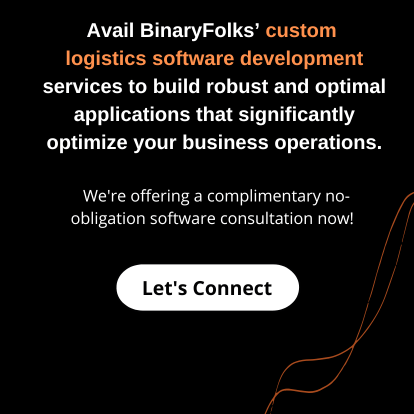 BinaryFolks' Custom Logistics Projects - A Glimpse of Our Industry Expertise
As a logistics software development company, we have an extensive amount of experience in developing custom solutions for our clients in this industry. Here are some of our featured logistics projects for you to check out!
Online Travel Management
BinaryFolks developed this platform keeping three user perspectives in mind: Bus owners, administrators, and customers. This multi-tenant application allows admins and bus owners to manage destinations, publish transport routes, manage bus schedules, manage seat allocations, and track ticket sales.
Transportation Data Curation Scrapping
When the user inputs data in the metasearch engines to find the desired travel itinerary, we run a script in the background that scrapes all the possible routes and save them in a centralized database. We then aggregate the results into a list of available routes according to either the cheapest price or least distance time. Users can then choose from those route options to find the best suitable path according to their preference.
Shipping Automation Tool
BinaryFolks built a multi-lingual shipping management application with corresponding backend functionality to enhance Customer experience and provide sophisticated functionalities like inventory management, automated transportation cost calculation, shipping cost payment, order management, invoice generation, and order tracking.
What Makes BinaryFolks Your Go-To Logistics Software Development Partner
Well, it looks like we have "delivered" you a glimpse of our logistics services(pun intended). But wait! There's more, here are some bonus value points that you get when you choose BinaryFolks as your logistics software development company:
Leverage Cutting-Edge Technologies to Provide Better Customer Service
Leverage the capabilities of artificial intelligence and other cutting-edge technologies to provide your user base with human-like answers to their queries instead of vague templates of texts. Our developers have developed multiple conversational chatbots that cater to the customers' requests by understanding the context behind their queries and providing results accordingly.
Design Simple and User-Friendly Operations Management Software
Adding more features to the software adds up to its complexity making it harder for users to work their way around the UI. To avoid this, other service providers may recommend you get rid of some features here and there, but this is not the case with BinaryFolks! Our developers can design professional and user-friendly interfaces without compromising on the necessary features.
Get Complimentary Consultation from our Custom Software Experts
Want to discuss more about the topic before you start investing in the development of your very own custom logistics software? Great! We would love to help you get a firm answer to all your questions! Let's discuss this over a quick call, shall we? Or maybe, you could quickly jot down your issue and shoot it our way!
There are 4 primary reasons that make custom software development a superior choice for the logistics industry:
Customizability and bonus features

Integration with pre-existing technologies

Data analysis for valuable insights

Control over the app leads to a competitive advantage
You can expect to develop a simple logistics software with a set of basic solutions to cost around $30,000 - $35,000. However, the exact cost of developing custom logistics software largely varies depending on the following factors:
Project scope

Time for development

The expertise of service providers
The time for developing custom logistics software can vary due to different factors. It can take anywhere between a few months to well over a year to build the final product. However, here's an approximate time required to develop specific stages of a logistics platform:
Planning and Procurement: a few weeks to a month

Designing: a few months

Development of the Model: several months to a year

Testing and Quality Assurance: a few weeks to a few months

Maintenance: recurring task, continues till the product's lifetime.
Being a competitive market, there's a huge set of custom logistics software development companies to choose from. However, here are the some of top logistic software development companies that are worth mentioning(based on our personal opinion):
BinaryFolks

OpenGeeksLab

Yalantis

Experion Technologies

ELEKS
Looking For Logistics Software Services?
Talk to the experts!