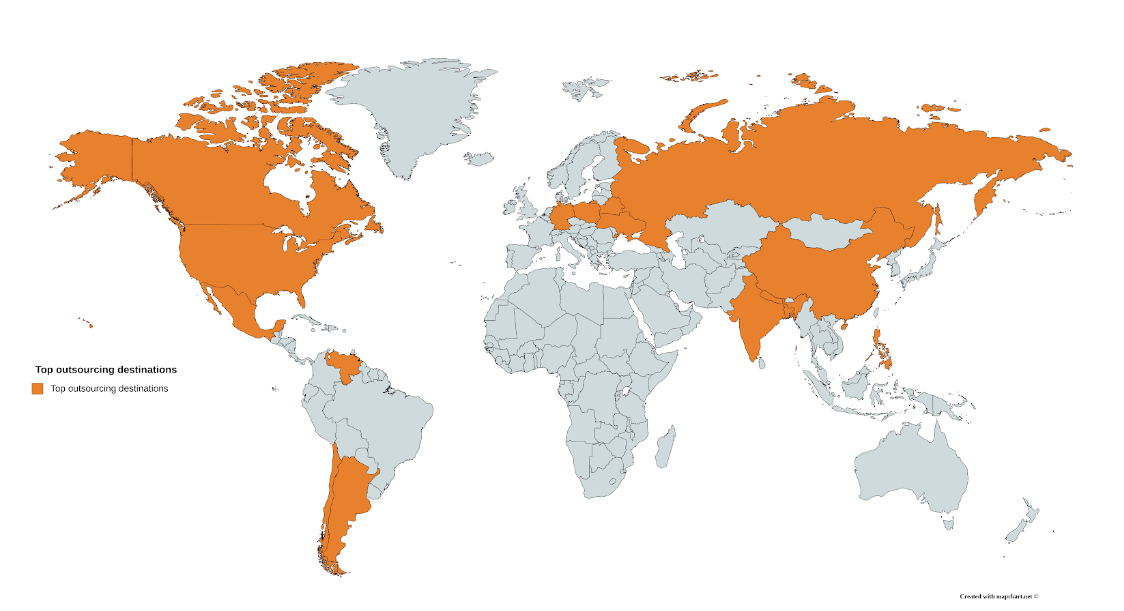 According to Statista, the market size of the outsourcing industry has been outstretched from $45.6 B in 2000 to $85.6 B in 2018. This shows how business, both enterprise level as well as startups are embracing the idea of outsourcing software development.

With globalization and interconnected economies, finding world class talent at lower costs is no longer a distant dream. For a company that outsources software successfully, it becomes their greatest asset, their competitive advantage!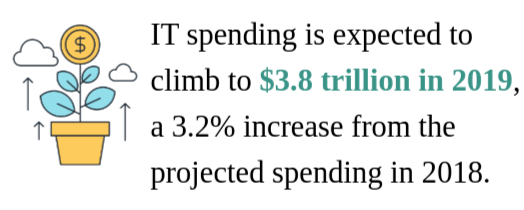 Source : Gartner
But, is software outsourcing worth it? Let's find out. In this article, we cover :

The pros and cons of Outsourcing

How to choose a software development company?

The 3 models of software outsourcing

How To Outsource Software Project Effectively?

Top software outsourcing destinations and their rates

Why outsource software to India?


What is software development outsourcing?
Basics first!
Outsourcing is doing what you do the best in-house and delegating the other tasks that are not your core competency to qualified onshore, nearshore, or offshore third party vendors. Think like this, the CIA hiring a Captain India instead of Captain America who's equally equipped at half the cost ;-)
Read more : 7 Software Outsourcing Success Stories from Biggies

In-house vs outsourcing
Now, you must be thinking why hire software developers from other countries when I can hire someone to do it in-house? Of Course you can! But, like any other business decisions, there are some pros and cons to both the approach.
Let's start with in-house software development :
So, keeping up with the trends, you either decide to develop new software or to modernize the existing one. So, you think to yourself - I'll hire a software development team! A team that consists of software developers, project managers, business analysts, and QA testers. How hard can it be?
Pretty hard actually!


[1] You need to first prepare yourself for the hiring hassels - Proper screening, validating, back and forth interviewing etc.
[2] There is also employee training.
[3] Also, in-house development means according additional expenses like salaries, tax, infrastructure investments, training, and other perks.


So, hiring and maintaining an in-house team is both time-consuming and expensive.
Now, speaking about outsourcing, sopes of both difficulty and expense curves dramatically decrease when your hire offshore software development companies. Yes, you have hiring hassles here too, but not so much!
You need to know who are the reliable players in the niche and shortlist a few software development outsourcing companies. Then after a somewhat shorter process than hiring in-house developers, settle on the best one.
Not only you can cut costs in this process but with outsourcing, you get access to global skills, flexibility and faster time to market. Outsourcing also means higher concentration on your core business processes.
If you further need more content on inhouse vs outsourcing, read the linked article.
What are the reasons for outsourcing?? What are the advantages and disadvantages of outsourcing?

Software development was the most outsourced IT function in 2017 ( Amost 64 percent of respondents outsourced IT services sometimes). What makes IT outsourcing so popular?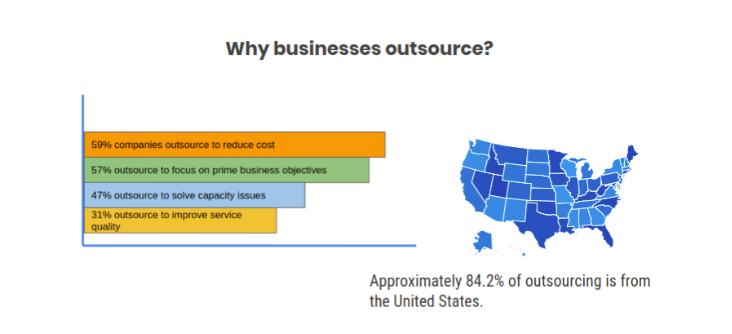 For starters, the price-quality ratio that you get with outsourcing software development is second to none! Also, huge access to global talent. If you need PHP developers, you get a huge queue of highly acclaimed PHP developers. Similarly, with any other framework or technology.
AND, if you are not taking advantage of outsourcing while your competitors are, you are losing money! And, trust me, your competitors are busy delegating their tasks to offshore software companies.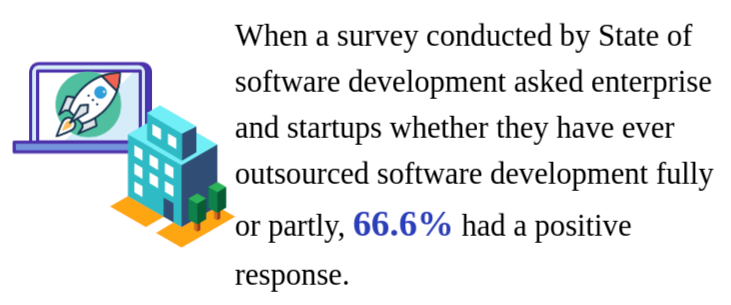 Let's take a look at the reasons for outsourcing in details :
[1] Global talent at your doorstep
It's like online shopping - Pick up a category and browse as long as you don't find the software development company of your choice. Outsourcing introduces you to a global talent pool. Any technology, any framework, any experience … you get ample choices when you take this approach.
Where as, hiring in-house developers mean a limited pool of local skills and you feeling coerced to stick to only the readily-available skills. With outsourcing, the world is your oyster! Happy hunting!
[2] 60% decrease in costs
It might have cost Thanos everything to get the soul stone, but it doesn't need to be like that for developing software, especially when you are hiring offshore companies. The fascinating decrease in cost is mostly accredited to the lower wages in the Asian and Latin American countries where one outsources like India, China, Mexico, Ukraine, etc.
And in the process, cost reduction also comes in the form of a steep decrease in employee salaries, benefits, infrastructure, etc.
[3] Focus on core expertise
Say, your expertise is cricket and you are asked to play the violin! God bless the people that will attend your concert ;) Somewhat like that if a company's core competency is not IT, then it's a huge hassle to set up the stage for developing software.
Software development outsourcing will help companies focus on their core competencies and free up resources, thus increasing both workforce productivity and revenue.
[4] Faster time to market
Delegating your tasks to a company helps you somewhat dictate your schedule too. This is because there are a few hands that work together to deliver the software you envisioned. So, if you want to get your product to the market faster, all you have to do is ask politely and depending on the resources that the software company has, they can scale up.
[5] Flexibility
If you are uber, then your employees, as well as your users, cannot do without an app. So, here your business is IT and you always need software developers around.
But, what if you are a logistics company and you need to develop an inventory management software or a warehouse management software? In this case, you actually need a team that is flexible.
But with in-house developers, this is a problem. You have to keep them around even when it's an off-season for software development.
With outsourcing, you are flexible to scale up and down. Hire a team for just the peak period with absolutely no commitment. When you need development again, hire them back.
To get a bigger picture of why you should outsource software development, check the link.
Now that we mentioned the pros, it just makes sense that we also point out the risks associated with software development outsourcing!
Risks of software development outsourcing :
[1] Partial loss of control
This is more of a myth! Hiring offshore software team also means you are as much in control as you are with hiring in-house developers. The catch is the company has to be reliable and professional. Don't just straight forward go to the cheapest option. A reliable software company will keep you involved throughout the process and communicate at every point.

[2] Unrealistic expectations
Set your expectations straight! You cannot create Tinder at $1000. If your expectations are unrealistic, your requirements will also be unrealistic and so will be the cost and time estimates by the software company.
Also, make sure not to go too much to and from with the requirements as not only will it cost you a whole lot of money, it will also conspicuously increase the development time.
[3] Communication and management
Explaining the idea of the software in bits and pieces and expecting your software company to deliver an A-class product on that is obtuse and ignorant. Poor communication and inferior management can slow a project down to the point where it's no longer relevant or valuable.
Make sure the company you are outsourcing development to has a record of exemplary communication and project management. We excel at it! Say's who? Independent third party reviews and testimonials.
[4] Trust
You can't trust someone in a day and your software partner understands that. But, you still have to vent out the complete idea of your software to strangers. What if my idea is stolen? I'm sure the thought crossed your mind at some point of time.
Ask your potential software vendors to sign an NDA (non-disclosure agreement) before communicating with them. This legally restricts them from sharing confidential trade secrets about your business that you reveal to them.
We also have an additional treat for you - Outsourcing software development is on the rise and so is the IT project failure rate. 71% of IT projects FAIL. Check this list of 5 sins, to make sure your project does not have one of them.
How to choose an IT outsourcing company?
So, this far you know why you are better off offshoring and also what risks it might bring to you. Now let's help you choose a competent offshore software development company. There are three broad types of software outsourcing :
[1] Onshore outsourcing
[2] Nearshore outsourcing
[3] Offshore outsourcing
Let's explain these :
Onshore outsourcing - Outsourcing software to a company located in the home country or region. Ex : If someone from New jersey outsources software development to developers from New York.
Nearshore outsourcing - Outsourcing to an adjacent or nearby country within the same time zone. Ex : When someone from the USA hires a company in Mexico.
Offshore outsourcing - When you hire a software company from another continent altogether with a different time zone. Ex : A company in USA hires an IT team in India.
You may outsource your development to any of these three categories. Onshore and nearshore are generally much costlier than offshore software development. No matter what you choose, you have to make sure the firm that you work with it competent and understands your software needs. Also, they have the capability to deliver a superior product within the stipulated time.


What traits every good IT outsourcing company must have?
[1] Experience! Experience! Experience!
A reputed software development company must have an impressive portfolio. Past performance to a large extent predicts future results. A company with experience in a similar industry or a similar kind of project means they have a comprehensive knowledge of the industry and can comprehend the requirements easily. Also, this experience will help them find easy solutions if they run into some problems during development.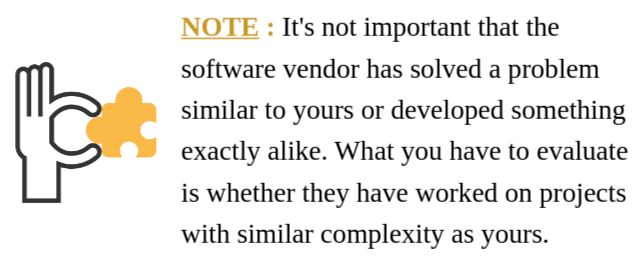 [2] Testimonials and references
Testimonials are the most credible source of feedback. It is the key piece of evidence to determine that your potential software company can provide actual value. You can head to their website or take a look at directory sites like Clutch and Goodfirms to get a vivid idea of your potential company's past reputation.
Also, talk to a few of their past and present clients about technical capability, communication, bug solving, etc to form a more impartial outlook. Remember, testimonials help build trust & credibility with social proof.
[3] Technical competency
This doesn't need to be shouted out loud but you need awesome coders that will transform your software idea to reality. So, scanning a company's technical capability is of utmost importance.
Take a look at their past projects and what technologies they worked within those projects. They should be experts in the technology in which they work. ( Take a quick sneak peak of the technologies we worked with ;-))
[4] Communication
The key to outsourcing is communication. Make sure the people you talk to are fluent in english, so that the language barrier is dissolved.
The success of any project depends on both parties communicating issues, concerns, and requirements very clearly and in unambiguous terms.
As software development is an iterative process, you should get a dedicated project manager who will be your single point of contact. He/she will be responsible for the whole project and should ensure that you get timely updates about the same.
Binaryfolks frequently use voice chat, video chat, screen sharing, and regular emails to create a virtual office environment to facilitate such seamless communication.
NOTE: Large companies with thousands of employees in their payroll doesn't guarantee a perfect software. Similarly, small companies with a few employees don't mean stale software! Keep that in mind.
Try and choose a software company that has new ideas and are willing to innovate, not someone who nods yes to everything you say. The company must manifest their superiority in this field through their communication. It shouldn't feel like you have to guide them at every step.
They are the captain when it comes to custom software development, they should behave so!
Read more : Questions you need to ask any software development company to make sure your software project is a success.

How to outsource software development? The 3 software development outsourcing models :

We will take you through the three most widely followed Outsourcing Models so that you have an idea of what would suit you the best.
[1] Time and material model
This kind of outsourcing model only considers the money spent on resources based on hourly rates of labor. So, here pricing generally happens in man-hours and clients are billed on the number of hours spent on a specific project, plus the costs of the materials.
When does it make sense to opt for a Time and material model?
Project requirements are vague and can change a lot
Project scope not yet clear
The project is a trial project to test collaboration before entering any fixed contract agreements.
[2] Fixed-price contract model
End-to-end management of the entire software project within a fixed price and time that is agreed upon by both the parties. A fixed price model needs a decent understanding of the project requirements and any significant scope change outside of the agreed requirements will most probably involve additional time and money.
Here, payment doesn't depend on the labor hours or the cost of resources. So as long as you don't deviate from your requirement you will have a complete peace of mind that within this date and within this cost I am going to get what I envisioned for.
When does it make sense to opt for a Fixed-price contract model?
The project requirements are clear by both parties
Not much probability of requirement changes
When the deadlines are known and agreed upon.
[3] The dedicated development team model
In this type of model, a dedicated team of developers, designers, QA testers, business analysts, project managers, etc are hired from within a company that acts as an extension of the client's current team.
The client has full authority to manage each of the team members as if they are hiring remote employees of their own but of course the cost will be higher in this model.
When does it make sense to opt for a dedicated development team model
If you as the client decides on a very long-term strategic relationship with the outsourcing company
If Software is your core competency and you require regular maintenance and updates
If the software needs to be tremendously scalable w.r.t load and users and flexible when it comes to requirements.

How To Outsource Software Project Effectively?
Only 29% of IT project implementations are successful. To make sure you are one of them, take a look at the 6 pointers to keep in mind to successfully outsource software development.
Due diligence and research
Document your requirements
Ask for previous references
Set clear expectations
Communicate
Involve QA testers from the beginning
Read more : A complete guide for Startup Product Development
Top IT outsourcing destination and their rates
After all this info, a simple google search on "software outsourcing companies" will lead you to thousands of results. So, how to categorize them? Mostly by geography and then qualification, cost, quality, time-zone, culture, etc.
The top destinations for IT outsourcing in 2019 are :
Asia
In countries like India, China and the Philippines, software development rates start from 20$/hour and can stretch to a maximum of $150/hour. For Bangladesh and Pakistan rates start as low as $10/hour.
Eastern Europe
Entry level software developers in Eastern European countries like Ukraine, Poland and Belarus on average charge $25-$50 per hour. For experienced ones, the rates go as high as $170/hour.
Latin America
Entry level software developers in Latin American countries like Mexico, Argentina and Chile charge $20-$50/hour and the rate goes up to $60/hour for experienced developers.
Read more : Offshore software development rates for IT outsourcing

Why outsource software to India?
India has evolved as the leading destination of software development in the world! According to OurStockPick, In 2018, India's high market share in the global services sourcing industry stands at 56%, which was the highest in the world.
Outsourcing software development to India means lower costs, higher software quality, no communication barriers, and a huge talent pool.
Talent pool -
India has around 3.1 million students that add up to the workforce each year. Almost 200,000 software graduates are employed by the IT industry every year. This is the reason why you will find a huge talent pool in India. With this talent pool and the number of specializations they have, any development challenges that are thrown across to them are tackled with utmost accuracy.
Communication -
India has 125 million English-speaking people, making it the world's second-largest English-speaking country, only second to the United States. So, there's a high chance that you will delegate your software development to an IT sector where almost everyone speaks fluent English.

Cost -
Hourly rates in India start from as low as $20. This is mostly because wages in India are much lower than it's US or European counterparts. Also, blended development is a reason - there are hierarchical layers of developers based on their skills and experience.
Maybe the low price of development is what attracts the companies but the quality of the final product is what makes them stay. This is what holds India's position in global outsourcing. Recent stats show India has become one of the topmost investment destinations in the IT industry with a 55% share in outsourcing.
And lastly, when to outsource?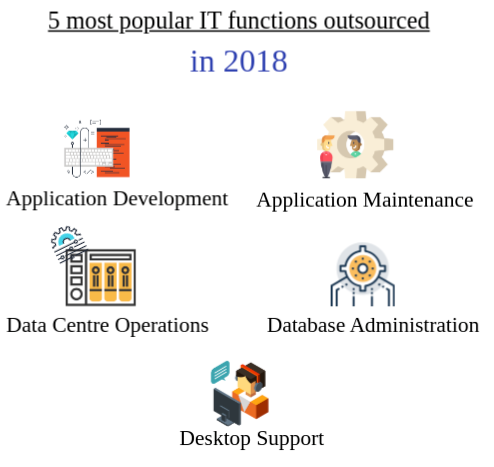 That's a valid question. Taking the earlier example, if you are running a company like Uber, where the whole business is concentrated around an app, then you are better off investing in in-house software developers. In this scenario, IT needs to be your core competency. Also, you can hire a dedicated software team and exercise control as and when required.
But, say you run a dropshipping company. You need software to automate your business processes and to free up time to further increase productivity. But that is not your core competency. It makes sense to outsource software development in this case.
Or you can always choose a mix of both. This means higher comparative advantage for you as now your business runs 24x7! When your in-house developers are resting, because of the time-difference that outsourcing brings, your other company is working on your project. Twice the fun!
To conclude
When you're running a business, it's tempting to want to do everything yourself. It's not feasible and needless to remind you, time-consuming. Outsourcing is the easiest way out of it. Through this lengthy piece of work, you now know what outsourcing is and why companies outsource software development.
Latest trends in software development include a mix of AR and VR, AI, IoT, PWAs, Cloud sourcing etc.
Read more : The latest software trends that'll dominate 2020
We really hope your outsourcing concepts are clear now. Binaryfolks is one of the top software outsourcing companies in India. With over 8 years of experience as a software development outsourcing company, we provide custom-fit, flexible outsourcing services to a wide spectrum of clients starting from Startup companies all the way to multinational companies (having thousands of employees and millions of customers) all across the globe.