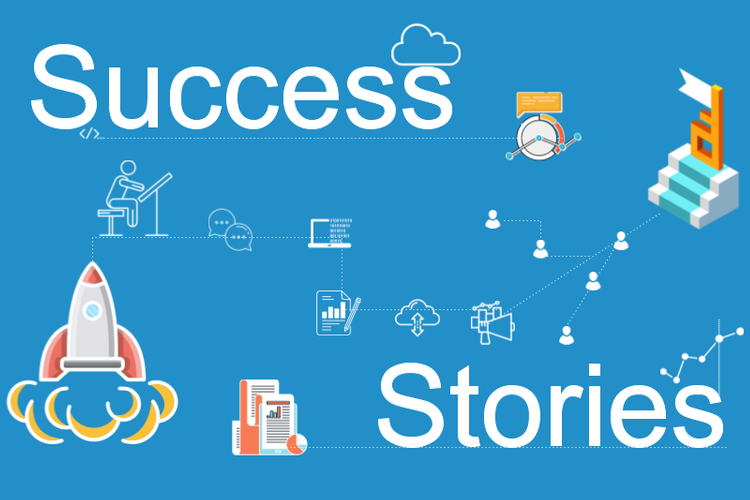 Let's start with a quote by Henry David Thoreau that most of us grew up idolizing -"Success usually comes to those who are too busy to be looking for it."
Everything begins with an idea. Ideas are responsible for the prosperity of humans and without them, we would still exist in prehistoric times. No ideas are big or small and every idea has the potential to change the world. Case in point, when Steve Jobs, first ventured into this entrepreneurship world, he and Steve Wozniak started working on a simple idea of a microcomputer in Job's Parent's Garage. But that simple idea and effort later revolutionized the whole computing landscape.
We, in this article, focus on some such outsourcing success stories of companies that made it big in this domain, but the twist is, they successfully used Software outsourcing as a great enabler.

Source : Technavio
Did you know that an industry like Google also has been taking advantage of outsourcing for years? Google's highest grossing product, AdWords, had around 1000 representatives from all over the world for customer support. In 2018, Google's ad revenue amounted to almost 116.3 billion US dollars.
Read more : The ultimate guide to software development outsourcing
There is a saying, following rules and never crossing a line doesn't often make a business successful. If you want to do outsourcing right, here are 7 success stories that will inspire your decision.
Alibaba
Who here hasn't heard about Jack Ma? Jack Ma, the co-founder and former executive chairman of Alibaba Group, is a strong proponent of an open and market-driven economy.

Source : Statista
According to Investopedia, the company's businesses account for more than half of all e-commerce sales in China. But, Jack Ma too, initially did outsource software development. In Jack Ma's autobiography, "Alibaba: The Inside Story Behind Jack Ma and the Creation of the World's Biggest Online Marketplace", he discussed how the company decided to start outsourcing as early as 1999 by hiring remote developers from the United States
.
The motive behind this was to appeal to a bilingual audience (Chinese and English speaking audience) and also find people with better skills that he did not find locally.
With the outsourcing approach, Alibaba now known as eBay of China has 674 million annual active subscribers and has a 60% share in the Chinese eCommerce market. Way to go!

WhatsApp
WhatsApp is a freeware, cross-platform messaging and Voice over IP (VoIP) service owned by Facebook. It is used to send text messages and voice messages, make voice and video calls, and share images, documents, user locations, and other media.
Source : Statista
WhatsApp has 1.5 billion active users in over 180 countries and you will be delighted to find out that even WhatsApp is no new to software outsourcing. WhatsApp founders Jan Koum and Brian Acton started the startup with a small amount of cash and were determined to save costs but at the same time didn't want to compromise on quality.
So, they outsourced their web development to app developers in Russia to minimize operational costs as well as get access to highly skilled developers that might be much costlier to find locally. After all these, WhatsApp is the third most downloaded Android app in the world and the number of WhatsApp users in the USA is predicted to grow to 25.6 million by 2021.
Slack
Slack is a cloud-based proprietary instant messaging platform. It's a chatroom for the entire company designed to replace email as the primary method of communication. Its workspaces allow users to organize communications by channels for group discussions or for private one-to-one messages to share information, files, and more all in one place.

Source : Investopedia
Slack is known to outsource its product design to a web designing company, including the logo design, web design, and mobile app design - almost the entire look and feel. Slack is used by more than 10 million daily active users and earns 401 million USD revenue in 2019.

Procter & Gamble
Procter & Gamble Company (P&G) is an American multinational consumer goods corporation that specializes in a wide range of personal/consumer health, and personal care and hygiene products. Not many people are aware of this but P&G also experimented with outsourcing and accelerated innovation.

Source : Statista
The motive behind outsourcing for established companies is slightly different than outsourcing for startups. Cost is no more a constraint for these companies but it is critical for these companies to bring out new products ahead of their competitors. Proctor and Gamble wanted the same for themselves too.
They outsourced research and development activities in order to reinvent the company's innovation business model in radical and precedent-setting fashion. Alan G. Lafley, the former CEO of P&G, set a goal to acquire 50 percent of innovation from outside the company. In 2003, P&G entered into $4.2 billion worth of outsourcing partnerships in IT infrastructure, finance and accounting, HR, and facilities management.
As a result, innovation productivity got boosted by 60% and in 2019, P&G's global net sales amounted to about 67.7 billion U.S. dollars.
Skype
Skype is a telecommunications application that specializes in providing video chat and voice calls between computers, tablets, mobile devices via the Internet. Skype also provides instant messaging services and video conference calls.

Skype outsourced almost all of its software development work to European web developers. Skype claimed that they had an excellent product idea but no professional web development team to execute the idea. Hence, software outsourcing worked so well for them.
Skype was such a tremendous success that it was acquired by Microsoft. Skype now has 300 Million monthly active users and almost 1 billion downloads. All thanks to outsourcing software development.
GitHub
GitHub provides hosting for software development version control using Git. It is a subsidiary of Microsoft and offers all of the distributed version control and source code management (SCM) functionality of Git as well as adding its own features.

But this might come as a surprise to a lot of you that GitHub actually outsourced its MVP. They hired a consultant, Scott Chacon (who's also a former CIO of GitHub today) to build them the backend of their product. At that time, GitHub founders couldn't afford to hire Scott, so they outsourced the MVP development to him.
Today GitHub has 40m+ developers and has 44m+ repositories created in the last year. Overall Github has hosted 100 million+ repositories, in total.
Unilever
Unilever is a transnational consumer goods company. Its products include food and beverages, cleaning agents, beauty products, and personal care products. Being such a big company with hundreds of brands all over the world, Unilever still chose to outsource its software development.

Source : Statista
Unilever being such an industry giant had become a loose federation of business groups and geographies operating across 24 countries, all using multiple ERP systems. With so many different
finance and accounting processes, the result was impeded growth. So, the company implemented a total business transformation initiative resulting in a single ERP system across Europe that encompassed outsourcing initiatives in finance as well as IT and HR.
According to Statista, In 2018, the Unilever brand was valued at approximately 4.4 billion U.S. dollars. This outsourcing contributed to the company's EUR700 million annual savings.
Why is software outsourcing beneficial to majority type of business?
71% of financial service executives outsource or offshore some of their services and this number is rapidly increasing. And, about 24% of small businesses outsource to improve efficiency. This means something.
Software outsourcing doesn't only save cost, it also enhances software quality if you hire the right software development company. You are not limited to the skill set that the local developers can offer but you can pick and choose the tech stack according to your preferences.
Read more : Offshore software development rates for IT outsourcing
In doing so, your team can additionally focus on their core competencies and free up resources, thus increasing both workforce productivity and revenue. Outsourcing also promises flexibility. Scale up and down according to your software requirements without any sort of commitments.
The definition of success has changed slightly from the traditional one - Success now is defined by the feeling that tingle of excitement about what you do, sticking with what matters through hard times, living a life you can feel proud of in retrospect. If you are a startup and looking to earn this success but cost, time or relevant resource is your constraint, outsourcing the software development is your best bet! You can read this article to know which software outsourcing model will be beneficial for you.
I confirm the subscription of this blog to the Paperblog service under the username bf_js.