Word on the street is that you're looking for a custom ecommerce software development platform. You're not alone! With a projected CAGR of 11.51% between 2023-2027, the ecommerce sector is expected to reach a market value of $6.35 Trillion globally(Statista, 2023). What does this mean for your business? To put it simply, if you play your cards right, the opportunities in this market are substantially high.
The fact that you are here shows that you understand the value of custom software development in a competitive market like ecommerce. So, here's an elaborate discussion of BinaryFolks' custom ecommerce services to help you chalk out the perfect solution model for your business. Let's begin!
Our Custom Ecommerce Development Services
We assist your business to exterminate unwanted pain points by implementing appropriate solutions via a custom software model. Let's take a look at some of our most well-received ecommerce services, based on our client's feedback:
mCommerce App Development
We specialize in designing high-quality mCommerce platforms that significantly enhance the accessibility of our client's business, making it easier for them to connect and serve their intended customer base. As a custom ecommerce development company we develop enhanced mCommerce applications by integrating key customer-pleasing yet growth hacking modules like:
1. Recommendation System: analyze the browsing and purchase history of every single user to provide them with personalized recommendations.
2. Customizable Push Notifications: Generate engaging push notifications based on the current trends to catch the user's attention, giving you a higher probability of showcasing relevant products.
3. Flexible Payment Methods: Easy checkouts allow users to have a seamless shopping experience increasing the probability of them coming back for your services, top it with a multi-layered security model and you have the perfect payment architecture.
Overall Performance Optimization for Reduced Application Loading Time
We prioritize optimizing every aspect of your custom ecommerce website & application to ensure your clients have a smooth shopping experience. Lack of optimization creates frequent disruptions which can be annoying for the users. This may lead to the users abandoning your application before finishing a purchase. Here's how we enhance the performance of our products:
1. Efficient Database Optimization: We improve the way you manage and store data. This includes operations like reducing the total database queries, removing unwanted data, and indexing the frequently accessed data.
2. GZIP Compression: This allows your application to compress the data before sending it to the end customers, reducing the total size of the data to be transferred.
3. Content Delivery Networks: Also known as CDNs, allows you to cache the contents of your website on servers spread across multiple geographical locations around the world. When a user tries to access this content via an application or a website, the data is transferred from the closest servers of the users instead of sending it from the primary server every time.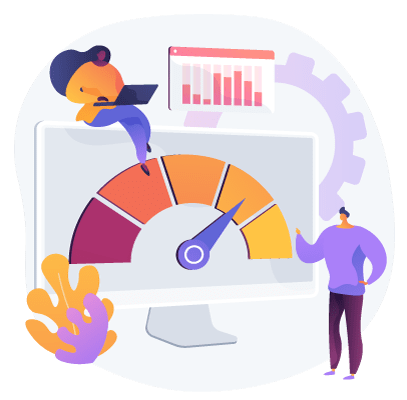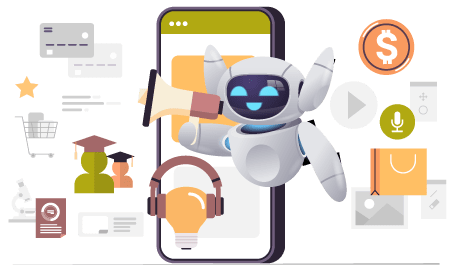 AI-Based Ecommerce Solutions
Leveraging the capabilities of artificial intelligence in a custom ecommerce solution improves the overall operational workflow of your business. From customer service to mitigating business disruptions, AI services cover almost every major aspect of the ecommerce business. Here's a brief discussion of some of our top AI-based ecommerce solutions:
1. AI-Powered Chatbots: If you want your customers to get actual human-like replies instead of prewritten templates that don't even make sense half of the time,
or
if it's annoying for you to reply to the same question hundreds of times a day,
then implementing an AI-powered solution should be a no-brainer for your ecommerce business, as a well-built custom chatbot can comprehend customer questions and share a befitting response in no time, drastically reducing waiting time and resource usage alike.
2. Visual Search: Gone are the days of writing a pager-long description and patiently playing around with its rephrased versions only to be getting results that are totally irrelevant. With computer vision and machine learning technologies coming together, your customers get served convenience at it's best with the ability to find similar products based on the reference visuals.
3. Dynamic Pricing: "Delivery fee surged due to rain" is a common notification we all have been getting lately from our favorite food delivery apps. Keeping a tab on changing market demands isn't a 'maybe' for retail businesses today, it's a must. With a self-adjusting dynamic pricing system analyzing the market trends, competitors' pricing, and other physical factors, an ecommerce business can ensure profitability is not compromised.
IoT-Based Ecommerce Solutions
Our custom ecommerce software development services use IoTs to refine the delivery aspect of your business. With the implementation of IoT-enabled devices and sensors, we can track the whereabouts of every individual product and regulate the information to the interested parties(local retail owners, customers) in real time. Here are some of the highlights of our IoT services:
1. Inventory Management: We use IoT-based sensors to tag the products in your inventory. As it updates automatically, it can inform you when the stock of a certain product does under a predefined threshold, mitigating the risk of an item going out of stock.
2. Smart Packaging & Transparent Shipping Solutions: Smart packaging enables real-time tracking of the packaged item for both the seller and the buyers. In addition, you get insights regarding the physical condition around the delivery node of the package which is important to establish a transparent shipping infrastructure.
3. IoT-Powered Cobots: Manage a copious amount of orders with ease by installing IoT-powered cobots in your warehouses. These cobots can handle everything from restocking the inventory to packaging the ordered items without the risk of any errors.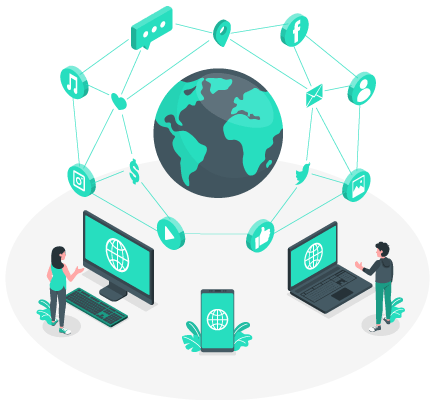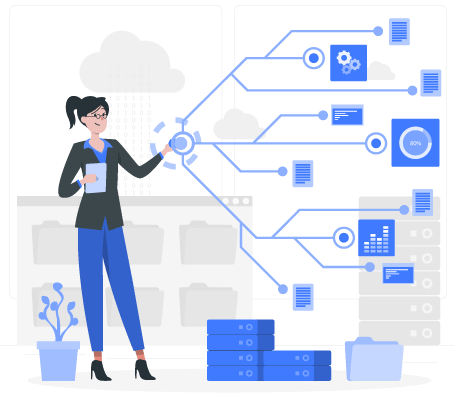 Microservices-Based Headless Ecommerce Platforms
Although it is a relatively new approach, our developers are well acquainted with developing ecommerce platforms based on a headless architecture with the integration of microservices. These microservices operate independently and collaborate via APIs, allowing a seamless mode of communication.
Having a headless approach means segregating the presentation and logical layers, this allows the ecommerce platform to operate with greater flexibility & scalability and provides an overall boost to the performance of the application. The fact that the front end is not directly dependent on the backend anymore, allows the custom ecommerce software to create unique designs for the presentation layer with ease.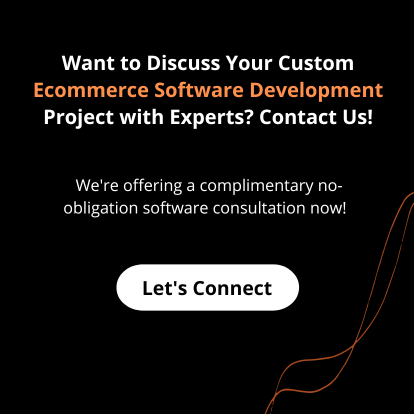 Our Expertise Across Popular Ecommerce Use Cases
Our custom ecommerce developers have spent an extensive amount of time developing intuitive and engaging applications for a wide array of clients, ranging from startups to large-scale enterprise businesses. Here's a discussion of some of the popular ecommerce sectors that our applications have helped optimize:
Online Store Development
Our custom ecommerce development services assist businesses in building online store platforms that showcase their products and services to their customer base. Providing the clients with a detailed description & specification of every individual offering to make sure that the genuine buyers have all the necessary information they need to make a final decision/purchase.
B2B & B2C Marketplaces
We are well-versed in building robust B2B or B2C marketplaces that help your business reach a larger audience. If you pick the B2B format for your platform, our developers help you design a custom ecommerce website or a mobile application that allows businesses to strike deals with each other. Alternatively, you can choose the B2C route where businesses get the option to sell their products/services directly to the consumer.
Ecommerce Aggregators
If you are looking to develop an ecommerce aggregation platform, don't worry, we got you covered! Our developers design custom ecommerce software that handles the data of multiple businesses of a similar kind and compares their services to help the consumer make an insightful decision. You can compare services of multiple business sectors to attract a larger domain of users and buyers.
Booking Platform Development
We provide booking platform development services, this can be a slightly different approach compared to the traditional ecommerce systems, nevertheless, it is crucial to mention as it has some vital use cases including:
1. Appointment Scheduling
2. Payment Processing
3. Automated Confirmation Mails
4. Etc...
Auctions and Bidding Platforms
Our custom ecommerce development services also include developing auction and bidding platforms where individual buyers or businesses can bid for the featured items or services. The products or services being auctioned are also submitted by a similar domain. Our custom platforms include special bidding and auction features to help the buyers and sellers get the best value out of the process. Here are a few highlights from our vast array of features:
1. Item Tracker
2. Automated Bidding
3. Blockchain Integration
4. Custom Notifications
Grocery and Food Delivery Platforms
Grocery and food delivery platforms are used all across the globe these days, if you're looking to build such a platform, we're here for you! Our ecommerce developers design feature-packed food & grocery delivery platforms that aggregate local retailers or cloud units depending on your business model, to deliver the products to the consumer's doorstep in no time.
Optimize your Entire Operational Model with BinaryFolks
Along with the innate scalability, personalization, security, and competitive edge improvements, custom ecommerce software development can introduce numerous operational enhancements to your ecommerce business model. Let's take a look at them one by one:
Logistics Management
Warehouse Management
Inventory Management
ERP & CRM Solutions
Personal Information Management Software(PIM)
Document Management Systems
Payment Solutions for Customers
Customer Retention Protocols
BinaryFolks' Ecommerce Projects - A Glimpse of Our Industry Expertise
Our developers have hands-on experience in developing customized solutions that cater to the client's business requirements. Let's check out a handful of them:
Car Reselling Platform
We built a car reselling platform that let users sell their cars and provide a quote based on the car details entered by the user. Also, a switch to mobile option is provided to the users to seamlessly use the evaluation workflow both from mobile and desktop, even they can pick up an unfinished process from a different device exactly where they left it in another device.
Dropshipping Automation Software
BinaryFolks developed an automated software that collects product and pricing information from Amazon and other ecommerce sites along with available quantity and cost from different fulfillment channels like Hublogix etc. Also, the system is fetching inventory status from different warehouses and updating the database automatically.
Online Comics Publication, Sales, And Promotion
We developed this aesthetically pleasing and easy-to-navigate online comic book store with advanced filtering so that it's easy to search for products and purchase them. Since the comics are downloadable as an ebook, we had to make sure the complete text along with all figures and illustrations were incorporated in high resolution to make reading much more intuitive.
You can check out the rest of our ecommerce services here.
BinaryFolks' Value Addition to Your Ecommerce Project
We hope you have a proper grip on the benefits of using custom ecommerce software for your unique business needs. Now let's take a quick gander at the top 3 ways BinaryFolks can take your ecommerce solution to the next level:
Build Feature-Rich Ecommerce Websites with BinaryFolks
Our technical team has extensive experience in developing custom ecommerce software that includes a wide array of features based on cutting-edge technologies such as artificial intelligence, IoT, and much more.
But you might be wondering, "Too many features mean a complicated UI which in turn means a not-so-user-friendly application". Definitely a valid concern, but rest assured, our developers have hands-on experience with developing professional and user-friendly application interfaces without cutting corners in the features aspect.
Get complimentary Ecommerce Consultation From Our Experts
Still have unanswered questions? Our consultants would love to brainstorm them! Let's strike a deal, shall we? You give us a new angle to think about the pain points related to the ecommerce industry and we provide you with a solution based on our years of experience working in the ecommerce business! Sounds fair?...Awesome!
Develop the Perfect One-Stop Monitoring System For Your Ecommerce Business
If you're using off-the-shelf solutions for your business, then this one might hit home for you. Your ecommerce business needs multiple solutions, from AI-based data analytics models to IoT-based inventory management software, but managing them individually can be a nightmare. "What's a better alternative?". Good Question! Our custom ecommerce development services include an all-in-one dashboard that allows stakeholders to get a high-level and in-depth understanding of the various business aspects from a single interface.
The decision of building an ecommerce website from scratch can be influenced by factors such as budget, availability of expertise, and unique business needs. If your business demands a website with high customizability options and isn't running on a shoestring budget then building a custom ecommerce website from scratch is an optimal decision.
The cost of building an ecommerce platform primarily depends on the following factors:
Feature Requirements

Integration of Other Systems Such as CRM and ERP

Projected Scalability of the Website
In addition to these factors, you need to account for the maintenance costs of the website as well as it demands a decent share of the website's budget.
Yes, an ecommerce platform is a great way to showcase your products and services to a large domain of customers. Additionally, providing your customers with a detailed description of each and every service/product helps them get all the information they need to make a purchase.
Artificial intelligence can boost ecommerce sales by optimizing:
Personalized recommendations by analyzing user behavior

Inventory management using predictive analysis

Retargeting potential clients with data analytics

Customer acquisition with methods like dynamic pricing and automated emails
The 4 primary stages in the development of an ecommerce platform are:
Acquire: Increase the footfall of your business with the help of marketing, advertisements, and SEO.

Convert: Improve your website's interface and performance to make sure the potential clients are able to navigate the service they are looking for with ease.

Secure: Once the customer shows interest in your services, be agile and respond to their prompt as soon as possible to seal the deal.

Retain: After finishing the project, provide the client with personalized recommendations and offers from time to time in order to retain the client as a loyal customer. Make sure you are not being spammy, as it creates a negative impression of your business in the market.
Looking For Ecommerce Software Development Services?
Talk to the experts!