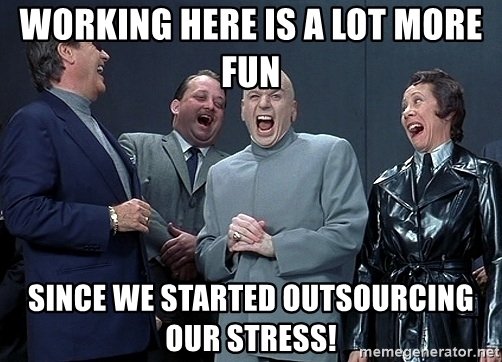 It is often quoted that if a company is depriving itself of software outsourcing and their competitors aren't, they're putting themselves out of business. Software outsourcing has always been the talk of the town, but, choosing a software outsourcing team is not a walk in the park. Being a software development outsourcing company with 94% repeat clients, we will provide a brief overview of the points one should keep in mind before outsourcing software development.
If you are a Large-sized software company, Your IT team has enough on their plate already. They are expected to take care of the never-ending volume of tickets while simultaneously developing cutting edge technology solutions, which you are bound to ask them to do because, if you're not innovating, someone else definitely is !!!
Same is the case if you are a start-up with a limited budget and no on-site software developers. As we all are aware of, Development isn't a side project; it requires a lot of labor upfront and testing and maintenance down the road. You can always hire more software developers, but that's going to incur a lot of costs as well as time ( yeah, we know how long this recruitment process takes !!! ).
All you need to do is expand your bandwidth, which is exactly the solution that outsourcing software development offers.
Acc. to Microsourcing
, 78% of businesses all over the world feel positive about their relationship with the outsourced company.
Outsourcing is no different than hiring. Yes, there is a substantial amount of risk in hiring a third party company, but, don't you take the same risk when you hire an employee? Whatever option you choose, you are exposed to potential risks. Just follow the same steps that you would take to hire an employee while hiring a software development outsourcing company.
Let us now see what are the most important parameters while selecting your outsourcing software development partner !!
Do your research
When outsourcing, the third party service provider becomes an extension of your organization. The team must act like a real business partner and give you the feeling that you have the entire team behind you. Go through their website, their previous work experience and most importantly, the client testimonials, as that speaks a lot. Remember, Bigger Isn't Always Better and Price isn't everything.
Get a Dedicated Team
A dedicated team (ones who will work on your project from inception to completion) is beneficial as they can consult with each other and solve any complex problems faster and in turn shorten the project completion time. Do your research on the firm and find out whether the firm you are hiring has a really strong percentage of repeat clients or not. If they do, it means that they are trustworthy and they stick by whatever they commit and that's why customers keep on coming back with further projects.
Take references
and speak directly to the clients who are partnering with the company for the longest time. Btw, 94% of clients who tried Binaryfolks in the first place, made us their permanent development partner
Communication is the key
When you are outsourcing, it isn't a "fire-and-forget" solution. The biggest benefit of software outsourcing is that the third party team has the capacity to bring in a fresh perspective, but that is useless if they don't understand the client requirements. It is absolutely essential for both the third party team and client to understand the requirements at a high level and break it down to small chunks so that the whole flow makes sense, both logically and technologically.
Write a Business Requirement Document (BRD) as soon as both parties settle on the complete application flow. This keeps both parties focused on exactly what will be delivered and eliminate any last minute surprises.
The success of any project depends on both parties communicating issues, concerns, and requirement very clearly and in unambiguous terms. We frequently use voice chat, video chat, screen sharing, and regular emails to create a virtual office environment to facilitate such seamless communication.
Trust
I know! I know! Easier said than done. But, the fact is that "Outsourcing works better when based on trust". Initially take some time to get to know the members of the team. Put faces to names and treat them like the partner you expect them to be." Ask them to divide the whole project into certain milestones so that you have full visibility about the progress and health of the project and there is no negative surprise during project delivery.
Technology Infrastructure
Make sure that the software development outsourcing team can work with your existing tech stack as well as have the skills and expertise to adapt to any new tech stack. Look for developers that work with diverse verticals of industries and business niches and are constantly trying to update their knowledge and skills.
Transparency
This goes without saying, but, stay involved with the project. There's one aspect of outsourcing that cannot be stressed enough and that is transparency. There cannot exist high quality without high transparency. So, both the buyers and service providers should share more, in order to gain more. All the processes should be carefully evaluated and structured in a way to keep the client's convenience and satisfaction in mind.
Take a straightforward approach to do what is right for the client by creating the most transparent environment possible when negotiating rates, time and application functionalities.
Parting Words
Outsourcing software development is not a simple outlook. Someone gets it wrong and they end up wasting a hefty amount of time and money, that they intended to save by outsourcing. But, if an organization doesn't opt to outsource, it will be encumbered with doing every little thing on its own, leaving little to no time to create new skills that form the foundation of competitive advantage.
Read another article
on what specific questions you must ask the software development team to make sure you are hiring right!
Looking to outsource your next software development project?
Let's talk
!